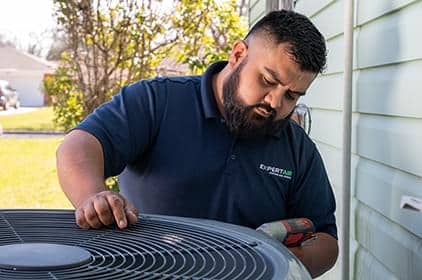 HVAC Montgomery, TX
When you need help with your HVAC in Montgomery, TX, contact us at Expert Air Cooling & Heating right away. We'll work with you to make sure you have full HVAC functionality again soon. Our team will get to you fast and get your system working well again soon!






Diagnostic of AC Unit
Get detailed results in minutes, and accurately know the issue.
Review Your Options
Our expert will review your options based on the problem.
Reliable Results
We provide the best solutions possible, quickly and efficiently.
Air Conditioning
We offer a complete line of air conditioning services in Montgomery, TX. We'll work with you to make sure we fix your central AC or your ductless mini split unit fast, so you can get everything back to normal soon. We offer air conditioning repair help. We'll repair your unit fast so you can get cool at home again ASAP.
We'll also help you replace your old unit with a new one. Our team will match your family with the best air conditioner for you, then install it and test it before we leave, too. AC maintenance in can help your unit work efficiently for many years. No matter what type of AC you have, we'll keep it in great shape.
Getting your heating in Montgomery working again is one of our specialties. Call us when you need heating repair and we'll get to you quickly. We'll fix your furnace, boiler, or heat pump ASAP.
Heater replacement is easy when you have our team working for you. We'll handle every step of the process, including your heater installation in Montgomery, TX. Our team will maintain your heater, too. We'll do whatever it needs based on the type of unit you have so it will function well for years to come.
Our team will help you improve your indoor air quality in Montgomery today! We can help you find the air filtration or purification system you need to keep your air clean. We can also install whole-home or room dehumidifiers. This helps your HVAC system run more efficiently and makes it easier to breathe, too.
If your ducts have small holes, we'll bring in our duct sealing team to fix those fast. We can also repair larger duct problems or replace all or part of your duct system. This keeps your hot and cold air inside your home so you aren't heating and cooling the outside.
Insulation helps keep you comfortable all year round in Montgomery, TX. If blown-in insulation is the right solution for you, we'll get you as much insulation as you need to make your home more efficient. If your problem is with attic ventilation, we'll make sure you have the air flow you need for maximum comfort. We can also install a radiant barrier to prevent heat transfer through radiation. We'll retrofit this to your home to help you save energy.
We'll work on your commercial HVAC system in Montgomery, TX no matter what kind of business you run. Our team will make sure we take care of any repair calls quickly, so you can keep running your business as usual.
We can also help you with any installation needs. Whether you need new components or a whole new system, we have you covered. Finally, we'll maintain your commercial HVAC system in Montgomery so you won't have to worry about sudden breakdowns or catastrophic problems.
Call us at Expert Air Cooling & Heating today, or anytime you need HVAC help in Montgomery, TX.

Extraordinary Results From Our Experts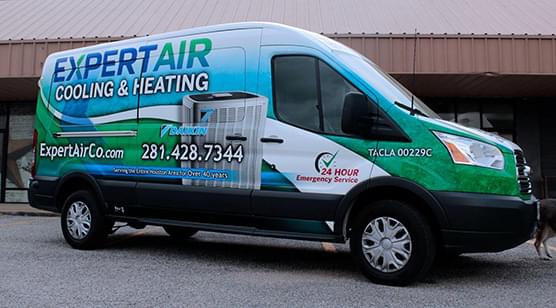 Comfort Solutions for Texans
Honest, Professional, Quality Service
For over 40 years, the heating and air conditioning professionals at Expert Air have provided quality and honest Baytown and The Woodlands HVAC service.
Our team is dedicated to our customers' complete satisfaction and to the quality of our workmanship.