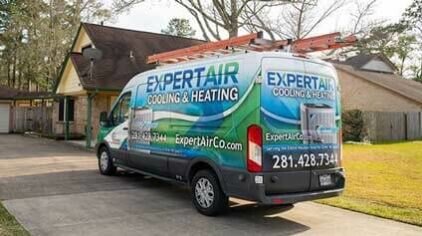 Heating & Cooling Jobs in the Greater Houston Area
Thanks for your interest in Expert Air Cooling and Heating, we are always looking for talented technicians to join our growing team. Please fill out the form below, and we will reach out to you if we think you are a good fit!
Job Listings
The position of an HVAC Installer is to deliver exceptional HVAC installation service to the customer by completing and installing HVAC equipment and accessories.
Job Responsibilities:
Install HVAC related equipment and accessories in accordance with the manufacturer's specifications.
Install gas lines, flue pipes, and wiring for both high and low voltage wiring applications as well as run flue liners.
Install copper refrigerant lines to air conditioning units, including soldering and brazing.
Design, fabricate and install various ducts and duct fittings, as necessary.
Properly connect gas lines to heating equipment.
Perform start-ups on heating, cooling systems and other components.
Perform limited diagnostics, as necessary.
Train, coach, and mentor apprentices.
Braze copper joints without leaks.
Pull vacuums on refrigerant systems and test for tightness.
Install and program all versions of thermostats.
Install, wire, and plumb all IAQ products.
Set an air conditioner, heat pump, furnace or air handler
Perform other duties as assigned.
Requirements:
High School diploma or GED required.
EPA Certified.
Nate Certification preferred
Have a minimum of 3 years of verifiable work experience in installation.
Must be able to use a computer tablet, smart phone and read a map or follow GPS
Valid driver's license and approved by Company's insurance carrier.
Must be willing to work a flexible schedule (including weekends).
Must be legal to work in the United States.
All full-time employees are offered the following benefits:
Medical, Dental & Vision Insurance
Long- and Short-Term Disability Coverage
Paid Training
Company paid vacation/holidays
Direct Deposit
Weekly Paychecks
EEOC Compliance Employer
All qualified candidates are required to undergo a pre-employment drug screen, MVR and background check
Basic Function:
The basic function of the Operations Coordinator is to ensure company efficiency and productivity on a day-to-day basis.  Coordinate all functions of the company including sales, service, and installation.
Essential duties:
The number one goal is to ensure a 100% customer satisfaction rating by performing the following:
Oversee and coordinate incoming calls to ensure proper efficiency and productivity.
Oversee and coordinate incoming part order to ensure proper efficiency and productivity.
Track parts orders to ensure customer satisfaction.
Help ensure that each department is profitable.
Oversee and coordinate parts inventory and parts replenishment for technicians in the field.
Train, manage, support direct reports.
Visit job sites to ensure proper installation procedures.
Overall responsibility for field quality control and operations.
Oversee and coordinate geographical call locations and routing.
Speak to customers and others that direct reports cannot assist.
Handle unhappy customers, and find the correct solution.
Work directly with Field Supervisor/Service Manager to ensure optimal productivity.
Other tasks as requested by the CEO/President
Travel between our Baytown and Woodlands locations is required.
Qualifications:
Bachelor's degree in business or equivalent
5 years management experience
Ability to lead
Ability to represent Expert Air in a professional manner with customers, vendors, staff and the general public
Work well under pressure
Understand company and department financial statements
Must have valid drivers' license and a good driving record
Ability to handle difficult customer/technician issues
Adaptability—the individual adapts to changes in the work environment, manages competing demands and is able to deal with frequent change, delays or unexpected events
Good communicator – works well with different personality styles
Working Conditions:
This position works in the office and the field.  The office environment is controlled and maintained in a safe manner.  Must occasionally travel to meet technicians, customers or vendors.  Is exposed to driving hazards.  Adherence to Safety Policy and Driving Safety Policy is vital.
Physical Demands:
The physical demands for this position are heavy.  Must be able to lift/carry up to 50 lbs.
Mental Requirements:
Self motivated and able to handle rapidly changing priorities and several tasks simultaneously.  Must be able to respond to difficult situations with customers and co-workers with high level of professionalism.  Must be able to communicate effectively with vendors and co-workers.  Must be able to follow safety guidelines at all times. Must have ability to manage and lead effectively.
Internal Relationships:
Communicates and interacts with employees on all levels in the office.  Sets an example for employees in the company.
External Relationships:
The title will have high level of contact with customers and vendors, and will be required to maintain professional communication and appearance at all times during work hours.
Under minimal supervision, performs diagnostic and service work on residential and/or light commercial HVAC equipment and accessories. Communicates with customer to answer questions, resolves problems, and ensures complete customer satisfaction. Promotes products and services to customer. Works under the direction of the Field Supervisor or General Manager.
Responsibilities:
Works under minimal supervision to perform residential and/or light commercial service and maintenance calls
Analyzes, diagnoses, and resolves customer problems in a courteous, professional, timely, and accurate manner
Diagnoses and performs services on heating, air conditioning, ventilation, and refrigeration equipment as well as accessories in an accurate and timely manner
Inspects equipment and performs diagnostics on equipment to identify potential problems to prevent premature and unexpected breakdowns or callbacks
Completes routine maintenance and equipment cleaning as needed or required
Responsible for delivery and removal of parts and equipment needed to complete service work
Using hand-held device records all required information on customer call. Completes all forms and paperwork in a neat, timely, complete, and accurate manner. Collects payment from customer.
Communicates with dispatch, while on duty, to ensure dispatcher has an accurate status report of activities and availability
Responsible for delivery of excellent customer service and sustaining high levels of customer satisfaction
Promotes products and services to the customer. Calls Sales and Service Coordinator with specifics on replacement product sales leads generated from customer service visit.
Ensures company property, vehicles, and tools are being used, maintained, and properly accounted for
Represents the company professionally, honestly, and ethically in all business matters and activities
Follows standard procedures and process, ensures that the company vehicle is properly stocked, returns defective warranty parts to the branch, and orders/replenishes vehicle stock as needed
Performs similar/other duties as needed or assigned
Qualifications:
High school diploma or GED with additional training and 1 to 5 years' experience in HVAC with technical training certification required
Must possess all valid licensing or certification as required by federal, state, provincial, or local governmental laws or regulations for the geographical work area
EPA and safety certifications required
Skilled at servicing heating, air conditioning, and ventilation equipment as well as related accessories
Proficient mechanical aptitude and the ability to operate all necessary tools and equipment
Proficient and able to operate all necessary tools and equipment to perform various service projects
Proficient at reading wiring diagrams and troubleshooting problems with electrical, refrigerant and duct systems on HVAC equipment
Proficient and able to properly start up and balance airflow and to properly align belts and pulleys on all systems with little to no supervision
Proficient and able to install a basic duct fitting
Proficient at troubleshooting and repairing electronic air cleaners, refrigeration systems, hot water systems, steam boiler systems, humidifiers, and related equipment with little to no supervision
Effective communication skills to communicate with customer and resolve customer issues, complaints, or concerns
Effective and efficient time-management and organizational skills
Valid driver's license with acceptable driving record
Available to work flexible hours and on-call shifts as needed
Ability to stand and walk and to climb ladders and attic stairs and to maneuver in attics, basements, and crawl spaces to access HVAC units. Ability to continually climb, balance, stoop, kneel, crouch, and/or crawl.
Ability to work in a variety of environmental conditions, including but not limited to the following: hot, cold, outdoor, indoor, dry, humid, slippery surfaces, heights, and congested areas
Ability to safely climb 300lb load capacity rated ladders with a 30lb tool belt
Natural or corrected vision to see and focus for close, distance, peripheral vision with normal depth perception
Ability to lift up to 75 pounds and ability to lift and carry items weighing up to 50 pounds
Job Type: Full-time
Benefits:
Dental insurance
Disability insurance
Employee discount
Health insurance
Life insurance
Paid time off
Professional development assistance
Referral program
Retirement plan
Vision insurance
Schedule:
Monday to Friday
On call
Overtime
Weekend availability
Ability to Commute/Relocate:
Houston, TX: Reliably commute or planning to relocate before starting work (Required)
Experience:
Maintenance: 2 years (Preferred)
HVAC: 1 year (Preferred)
License/Certification:
Driver's License (Required)
EPA Certification (Required)
The position of an HVAC Service Technician is to deliver exceptional HVAC service maintenance on residential heating and air conditioning systems and to oversee the work of the HVAC Service Apprentice to ensure all work is performed correctly.
Job Responsibilities:
Perform a thorough and accurate HVAC inspection including Health and Safety Checklist and communicate findings to the customer in a written option sheet.
Perform all HVAC repairs and replacements to applicable codes.
Complete all required documentation on services and collect, record and deliver fees to designated office administration.
Facilitate order for all parts required for appointments and ensure preparedness for the day of service.
Submit purchase orders to dispatch or other designated purchasing team administrators.
Transport materials and tools to the job site and provide proper accounting of assigned tools.
Keep vehicle clean and in safe working order.
Ensure vehicle is stocked and accurately inventoried.
Effectively communicate with the customer regarding questions, concerns and problems.
Inform a manager if the customer does not have HVAC service before leaving the call.
Facilitate rescheduling customer appointment, if call is not complete.
Accurately complete all required documentation on services performed.
Age and type of equipment.
Services completed.
Invoice with cost for services performed.
Maintain a courteous demeanor with customers and associates at all times.
Maintain a professional image at all times by wearing company approved uniform.
Abide by all standards of performance and ethics.
Participate in company sponsored training classes.
Follow all safety policies and procedures.
Communicate the benefits of Club Memberships.
Perform other duties as assigned.
Requirements:
High School diploma or GED required
EPA Certified.
Nate certification preferred.
Ability to show proof of current TDLR.
Have a minimum of 2 to 5 years of verifiable work experience in the HVAC industry.
Knowledge of the fundamental operational functionality of residential air conditioning, heating, and ventilation equipment.
Able to troubleshoot problems with refrigerant, electrical, and duct systems on HVAC equipment.
Must be willing to work a flexible schedule (including weekends).
Must be able to use a computer tablet, smart phone and read a map or follow GPS.
Valid driver's license, and approved to drive by Company's insurance carrier.
All full time employees are offered the following benefits:
Training
Company paid vacation/holidays
Company Truck
Company Phone
Direct Deposit
Weekly Paychecks

Extraordinary Results From Our Experts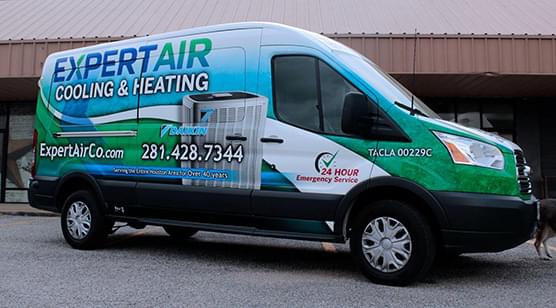 Comfort Solutions for Texans
Honest, Professional, Quality Service
For over 40 years, the heating and air conditioning professionals at Expert Air have provided quality and honest Baytown and The Woodlands HVAC service.
Our team is dedicated to our customers' complete satisfaction and to the quality of our workmanship.