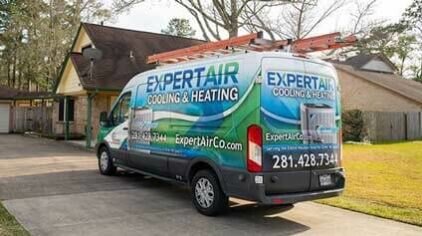 Duct Design The Woodlands, TX
Expert Air is proud to provide custom duct design in The Woodlands, TX and surrounding area. Ductwork normally comes in a few standard sizes to account for homes of varying sizes. However, there are certain situations where those standard sizes just don't work well. In those cases, custom ductwork is a great idea for homeowners that want to make sure that their homes stay comfortable and efficient. At Expert Air, our HVAC and indoor air quality technicians provide complete duct design for homes of all different sizes. Reach out to us today!
We know that each home has its own unique needs and that making custom ductwork is often a good choice. If you're moving into a new home or if you're in the process of designing a new home we can help you get quality custom ductwork that will work well for many years.
At Expert Air, we are dedicated to the quality of our workmanship and to the level of customer service that we provide. We have many years of experience building custom ductwork and our HVAC technicians are NATE–certified. When you're ready to work with a professional contractor that has the skill and experience to make sure that your new ductwork works well, call Expert Air.
A common cause of duct problems that we see is bad installation. If your home has unusual dimensions or if there isn't enough room in the attic, ceiling space, or walls then the contractor that installs your new ductwork will have to make the standard size work. This can mean bending or pinching the ductwork to make it fit. Obviously, the ductwork should try to take the shortest path between your air handler and your rooms. It should also use the fewest amount of turns as possible. But with standard size ductwork, this isn't always possible.
Getting custom ductwork build just for your home is a great way to deal with unusual space limitations. At Expert Air we offer professional duct design. We can help you plan out the new ductwork, build it for you and then install it so that your heating and air conditioning system work as efficiently and for as long as possible.
One of the best signs that you need to have a custom duct design is if your ducts are making strange noises. This usually means that the air is moving through the ducts in an unusual way, causing the ducts to vibrate. Also, if your utility bill is unusually high it could mean that the ducts in your home are restricting the flow of air. The nature of your home's construction may not allow for standard-size ducts.
Now that you have custom ductwork in your home, making sure that it is taken care of is probably a good idea. Having your ductwork regularly inspected, repaired, and sealed is a terrific idea for all homeowners—not just those with custom ductwork. Over time and with all the use that it gets, your ductwork can develop cracks, leaks, or even start to move around. These small problems can end up costing you big time. Even a small leak or crack can reduce the efficiency of your heating and air conditioning system by a lot. During regular inspections, our technicians will check your ducts for cracks or leaks. They can seal them up and make sure that your home continues to operate as efficiently as possible.
The Woodlands Air Duct Pros
For all your The Woodlands duct design needs, call Expert Air. We are experts in our field and have many years of experience designing ducts for countless customers!
Be Cool, Save Money
Protect your home with the latest technology and worry less with a lifetime guarantee on service parts. Join the Expert Air Maintenance Plan today!