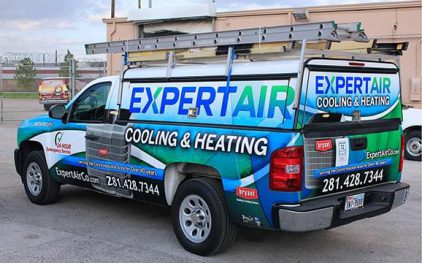 Commercial Air Conditioning in The Woodlands, TX
Functional commercial air conditioning in The Woodlands is essential to doing good business, especially during the hottest days of summer. If you're too hot at work or your tenants are complaining about how warm they are, give us a call at Expert Air. 
We'll send out a skilled expert to do your commercial air conditioner service in The Woodlands. Before too long, you'll be cool again and your customers will be happy to work with you. Call us now to get your AC issues fixed soon!
Commercial Air Conditioning Repair
Don't leave your commercial air conditioning repair in The Woodlands to just anyone. You need technicians who specialize in commercial systems and understand commercial needs. Otherwise, you might end up with an even bigger problem on your hands. 
Stop worrying about your commercial AC in The Woodlands and call us at Expert Air. We'll get to you quickly, answer all of your questions, and do what it takes to get your commercial air conditioner in The Woodlands working well again soon. Stop stressing and pick up your phone today!
If you're building a new building for your business, then you'll need commercial air conditioner installation in The Woodlands. At Expert Air, we'll make sure you get a unit that will work well for you and your customers or clients for years to come. 
If you're doing a commercial air conditioner replacement in The Woodlands, we'll help you select a unit that meets or exceeds the performance of your current one. 
When we do your commercial air conditioning installation in The Woodlands, or your replacement, we'll talk to you about the size of the space you're trying to cool, whether saving energy is a priority for your business, your budget, your usage patterns, and more. 
We'll make sure you get a unit that will keep you cool and won't cost a fortune in operating costs or repairs. Then we'll get your air conditioner replacement in The Woodlands installed according to specifications so you can be sure it will run for you for years to come.
Regular commercial air conditioner service in The Woodlands, or maintenance, will help make sure your A/C is running well so you don't run into unexpected problems with it. Your Expert Air tech will visually inspect your entire A/C system, check each component against the manufacturer's specs, change any filters you have, and repair anything that has broken. 
This will help make your A/C run longer and keep your energy bills as low as possible. Since every penny counts when you're running a business, this service can help you keep your overhead down. 
When it comes to commercial air conditioning in The Woodlands, the experts are at Expert Air. That is just a phone call away when you live in our beautiful city, so we are always here for you. If you're struggling with your commercial A/C and you're not sure what to do, we'll help you find the answers you need. Make your appointment with one of our commercial system experts today!
Huge potential savings await business owners who invest in routine maintenance of their The Woodlands commercial HVAC system. Expert Air handles all aspects of commercial HVAC maintenance. Because your heating and cooling system works almost constantly to keep your business cool or warm, minor issues and problems are likely to arise. During monthly maintenance visits, our professionals will look for and address minor issues. Early detection can help you avoid costly HVAC repairs and may even extend the life of your system.
Commercial HVAC Pros in The Woodlands & Beyond
Call the friendly technicians at Expert Air for any commercial air conditioning service. We would also love to set you up with regular commercial HVAC maintenance, for the same price and services as our famous maintenance plan! Learn more by giving us a call today!
Be Cool, Save Money
Protect your home with the latest technology and worry less with a lifetime guarantee on service parts. Join the Expert Air Maintenance Plan today!