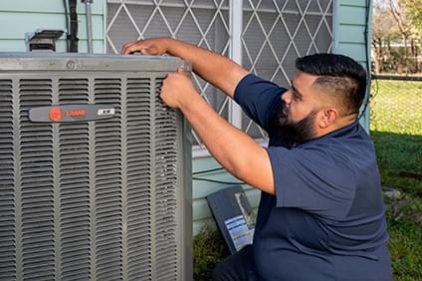 AC Repair The Woodlands, TX
During the hottest time of the year, you can't afford to be dealing with The Woodlands AC repair. The heat of summer in this part of the country is legendary, and it takes a well-working air conditioning system to overcome the challenges of this particular season. Of course, all of the hard work that your The Woodlands air conditioning system does can take a toll, and even the best, well-maintained systems out there will encounter operational problems from time to time.
That's why you should call Expert Air Cooling & Heating for AC repair in The Woodlands or the surrounding Houston area at the very first sign of trouble with your system. We'll send out a knowledgeable, trained air conditioning repair technician to evaluate your system and get it fixed in no time!
Benefits to Calling Us for The Woodlands AC Repair
We occasionally speak with homeowners who are unsure if they need AC repair in The Woodlands or whether it is worthwhile to hire professionals. If you're wondering why you should call us, here are some reasons:
Our The Woodlands AC repair techs have years of experience and can repair any AC problem at any time
We work quickly, so you can have your air conditioning back up and running quickly
We will not stop until we have identified the root of your air conditioning problems, so you won't have to worry about the problem recurring
We keep parts on our truck, so we can generally fix your air conditioner without having to leave and come back
The longer that you delay in scheduling air conditioning repair in The Woodlands or beyond, the worse off your home cooling system is likely to be. Forcing a compromised system to continue working can make problems even worse, leading to more complex and costly The Woodlands AC repair.
It also greatly increases the risk of a complete breakdown. Not only that, but because a damaged system is not going to be functioning at peak performance levels, you may wind up paying more money for a lesser performance from your system until it is properly repaired.
Calling Expert Air for The Woodlands AC service can not only help make your home more comfortable but also save you money by avoiding costly repairs in the future!
There are, fortunately, some warning signs that you may notice which can indicate the need for AC repair in The Woodlands. Because your air conditioner is going to be better off the sooner you have it repaired, getting to know these signs of trouble is certainly in your best interest.
If you find yourself answering yes to any of these questions, call us for The Woodlands AC repair right away:
Is your home less comfortable in certain areas than others? Uneven cooling is a sign that you may have damaged ductwork, issues with a fan, or low refrigerant levels.
Do you see ice developing on your evaporator coils or refrigerant lines? You may have a refrigerant leak. This is hugely problematic, as it is the refrigerant in the system that allows for the removal of heat from the air in your home.
Is your system failing to start up, or cycling off too quickly? A faulty capacitor could be to blame.
Does your thermostat seem to not be communicating with the AC unit? This may also impede the operation of your system, and there are a lot of wiring and electrical components that may be compromised as well.
The only way to have your system's problems properly diagnosed and successfully resolved is to schedule AC repair in The Woodlands with a professional, like the team at Expert Air. Whatever the situation, count on us to repair it properly!
We know that air conditioners can break any time of the day or night, not just when it's convenient for you or during regular business hours. That's why we have HVAC technicians standing by 24/7. Whether you need us in the middle of the night, on a holiday, or over the weekend, give us a call at Expert Air. There's always someone who can come out to you, take a look at your air conditioner, and get it working again for you fast! Emergency AC repair in The Woodlands and surrounding areas is one of our specialties!
We've been working on air conditioners like yours for years, so we're confident that no matter what's wrong with it, we can get it running again quickly. Our trustworthy The Woodlands air conditioning repair staff will respond soon and start to work analyzing the problem.
We'll be able to start your The Woodlands AC repair after we've discovered what went wrong. We'll keep working regardless of how long it takes since our ultimate goal is your comfort, and we won't stop until we have it.
Call the pros at Expert Air for supreme The Woodlands AC service!
Air Conditioning Repair in The Woodlands You Can Trust
AC repair in The Woodlands, TX doesn't get solved on its own. In fact, the problems are likely to get worse and cause wear and tear, or even irreparable damage, to your air conditioning system.
Instead, let us come out, assess the problem, and get it fixed for you quickly and efficiently. Our professional The Woodlands AC repair technicians are highly skilled and experienced in dealing with all sorts of air conditioner problems. So call the pros at Expert Air Cooling & Heating for AC repair in The Woodlands today!
Be Cool, Save Money
Protect your home with the latest technology and worry less with a lifetime guarantee on service parts. Join the Expert Air Maintenance Plan today!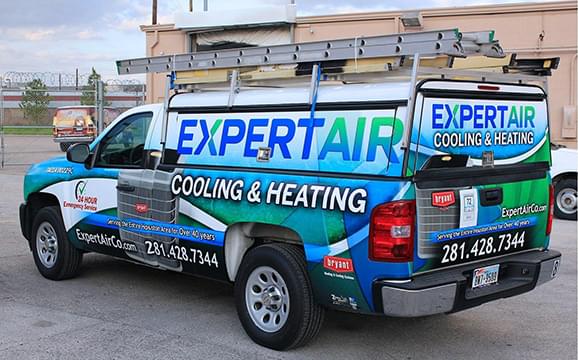 The Woodlands Air Conditioning Repair FAQ
What are some common air conditioning problems?
A full or clogged filter, a faulty condenser, a coolant leak, or a blower malfunction are all common AC problems in The Woodlands. When you call us for air conditioning repair in The Woodlands, TX, we can figure out what's wrong with your system and get it working again as quickly as possible!
How can you tell if your AC is broken?
The following signs can indicate that your AC is broken and that you should call us for air conditioning repair in The Woodlands:
Your air conditioner will not switch off
Your air conditioner cycles rapidly on and off
Your air conditioner is leaking
Your air conditioner makes strange noises
Your air conditioner emits unpleasant odors
Your air conditioner is not cooling as well as it used to or as well as you require
Why is my AC blowing hot air?
We can't tell you exactly why your AC is blowing hot air without inspecting it, but what we can tell you is that we can get to you fast and solve the problem ASAP. You may need coolant, have a broken compressor, need a filter change, or have one of a whole list of problems.
The Woodlands AC Repair Recommended Readings