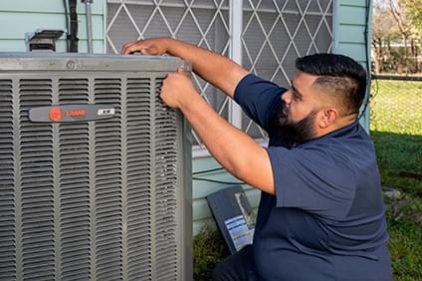 AC Maintenance The Woodlands, TX
If you're a homeowner but you don't know that AC maintenance in The Woodlands, TX are could save you quite a bit of time and hassle, you aren't alone!
In fact, we talk to a lot of people who haven't even heard of air conditioning or HVAC maintenance before! If this is you, or if you haven't called for an AC tune up in The Woodlands or the Houston area for more than a year, reach out to us at Expert Air now. We'll have an experienced technician to your address fast to assess your AC and let you know how we can get it running well for you.
Benefits of an AC Tune Up in The Woodlands, TX
Not convinced that you need air AC maintenance in The Woodlands? We don't blame you! Here are some of the benefits that we see our customers reap all the time after they let us maintain their AC unit.
Make your AC run more efficiently. Maintenance helps your unit get more cooling power out of less energy. This raises its efficiency and makes your life better.
Save money. When you aren't using as much energy, you won't have to pay as much in energy costs throughout the year.
Save the planet. Using less energy is always good for the earth! Do your part by signing up for AC maintenance in The Woodlands or the Houston area every year.
Stay cooler at home. When your AC is working well, it has optimal blowing power. This can make a huge difference in those rooms that always seem to be too hot, no matter what you do.
Make your AC last longer. Efficient AC units experience less wear and tear every time they run. This can make the whole unit last longer, which saves money and adds to your peace of mind.
Increase your peace of mind. When we perform maintenance, we'll do our best to find any problems with your air conditioner before they cause catastrophic issues. This allows us to repair your unit before it becomes an emergency.
What Does AC Maintenance Include?
When we come out to maintain your AC in The Woodlands, we'll run through a complete checklist that addresses the functioning of every part of your air conditioner. In general, every visit includes:
Changing your HVAC filters
Cleaning dust and debris out of your AC unit
Visually inspecting every part of your HVAC system that we can see
Testing each component of your AC unit to make sure it's working the way it was designed to
If we find any problems with your air conditioner in The Woodlands, TX, we'll work with you to make sure it gets fixed ASAP, so you'll have reliable cooling power again soon.
Professional AC Tune Ups in The Woodlands
If you're air conditioner isn't working quite the way it used to, or the way you need it to, reach out to us at Expert Air Cooling & Heating. We'll send out an experienced technician to perform your AC tune up in The Woodlands, and before you know it, your air conditioner will be as good as new!
Be Cool, Save Money
Protect your home with the latest technology and worry less with a lifetime guarantee on service parts. Join the Expert Air Maintenance Plan today!