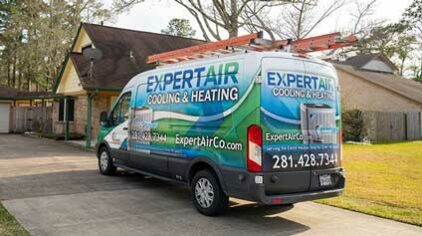 Duct Sealing The Woodlands, TX
You may not realize it, but every ounce of air that your heating and air conditioning system pushes into your home has to travel through ducts. Your ducts are a huge part of your home's HVAC system which means that if something goes wrong with them it could be a huge problem. Luckily for homeowners, the friendly indoor air quality technicians at Expert Air offer quality duct sealing in The Woodlands, TX and surrounding area. Reach out to us today!
Our Air Duct Sealing Services
Duct leaks and cracks are some of the most common problems that we see. Leaks and cracks can occur over time, from bad installation, because of water damage, or from rodents and insects. But because your ducts are hidden in your ceiling, floor or walls it's hard for many homeowners to tell if their ducts are working properly.
Our HVAC technicians are highly trained and NATE–certified which means that they're good at their job. They'll be able to quickly find any holes or cracks in your ducts and seal them up quickly. Here at Expert Air, we are dedicated to the complete satisfaction of our customers and to the quality of our workmanship. We want each job that we do to exceed your expectations and our own high standards. If you suspect that you need to have your ducts sealed just call Expert Air.
Even though your ducts are out of sight, there are a few telltale signs that could indicate that you have leaks in your ducts. If your ducts are noisy and you hear a rumbling, whistling, or cracking sound whenever you turn on your heating or air conditioning system, it usually is a sign of bad installation, a common cause of duct leaks. Also, if you start to notice that your utility bill is rising without any explanation, it could mean that the ducts in your home are wasting energy through leaks. When you turn on your heating or AC system do you smell a strange odor? This could mean that outside air is coming into your ducts.
Getting quality duct sealing in The Woodlands, TX has many potential benefits for homeowners. Because of how much air goes through your ducts, any kind of leak can allow massive amounts of air to escape. When you get your ducts sealed up, most of the air that you pay to heat or cool will actually make it into your home. One of the main benefits of duct sealing is that it will likely increase the energy efficiency of your home's heating and air conditioning system. Another huge benefit to sealing up leaks and holes is that it could increase the quality of air in your home. Outside air contaminants like insects, dust, dirt, and other debris can enter your home through your ducts. Professional duct sealing could help reduce the number of contaminants in your home.
Professional The Woodlands Duct Sealing Service
If you're interested in duct sealing in The Woodlands, TX area, call the professionals at Expert Air. Our technicians have years of experience providing fast and quality duct sealing services for homes of all different sizes. Call us today to talk with one of our techs about how duct sealing can benefit your home!
Be Cool, Save Money
Protect your home with the latest technology and worry less with a lifetime guarantee on service parts. Join the Expert Air Maintenance Plan today!