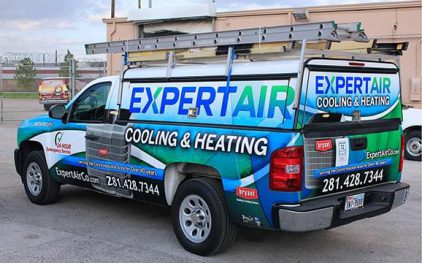 Commercial HVAC Repair The Woodlands, TX
The HVAC technicians at Expert Air Cooling & Heating can diagnose and address any commercial HVAC issues you're having and repair them quickly to return your business to comfort. We'll walk you through the entire process, and we can help you learn the necessary HVAC maintenance you can perform yourself to keep your equipment running efficiently. Reach out to us when you need commercial HVAC repair in The Woodlands, TX or the surrounding area!
Emergency Commercial HVAC Repair
If your air conditioning system isn't cooling your business enough or if your heating system won't turn on, call Expert Air. We're available 24/7 for emergency commercial HVAC repair in The Woodlands, TX because we know that problems don't always happen when it's convenient.
The heating and air conditioning systems at your business probably run almost constantly. With all that use, it is likely that they will eventually break down and need to be fixed. At Expert Air, we provide complete commercial HVAC repair in The Woodlands for all different types and brands of equipment. We've seen many different types of issues and can get your system working again quickly. These are just a few of the most common types of commercial repairs that we see.
Insufficient cooling or heating is a very common commercial HVAC repair. While it could mean that you just need to change the air filter or change the battery in your thermostat, it could be something more serious. It might be that the compressor is bad or that the fan's motor has stopped working.
If your commercial heating or air conditioning system is making a strange noise, it could be disrupting your customers or employees. Strange noises are usually a sign that something is wrong and you should call for repair immediately. Your fan or fan motor could be causing the issue or it could be the compressor motor.
There are huge potential benefits to business owners that get their The Woodlands commercial HVAC system regularly maintained. Expert Air provides complete commercial HVAC maintenance. Because your heating and AC system works almost constantly to keep your business cool or warm, it will probably start to develop small issues and problems. During regular maintenance visits, our technicians will look for those small problems and repair them. Early detection is a great way to reduce the need for costly HVAC repair and might be able to extend the life of your equipment.
Commercial HVAC Pros in The Woodlands & Beyond
Call the friendly technicians at Expert Air for any commercial HVAC repair. We would also love to set you up with regular commercial HVAC maintenance. Contact us today!
Be Cool, Save Money
Protect your home with the latest technology and worry less with a lifetime guarantee on service parts. Join the Expert Air Maintenance Plan today!