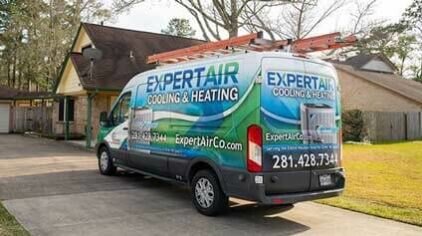 The Woodlands Heating Services
A good heating system is critical to keeping your Texas home comfortable. While you likely use your air conditioning system more often than your heating system, there are several months of the year when you need a good furnace, boiler, or heat pump to keep you warm.
At Expert Air, we offer comprehensive heating services in The Woodlands and beyond, including heating repair, maintenance and installation. We have experience working with all different types and brands of heating systems. If your The Woodlands heating system isn't warming your home the way it used to or the way you need it to, give our The Woodlands HVAC team a call at Expert Air Cooling & Heating!
The Woodlands Heating Repair
Your heating system likely gets a lot of use during the year. Because of all that use, you will eventually need heating repair in The Woodlands, TX or the surrounding area. If your heating system isn't delivering enough heat, call Expert Air Cooling & Heating. We'll handle any heater repair in The Woodlands that comes our way.
The Woodlands Heater Installation & Replacement
One of the best things that you can do for your home's heating and air conditioning system is to have it installed by a professional contractor. Your heating system is a huge part of your home and having an expert perform your heating installation in The Woodlands, TX will help make sure that it works well for as long as possible.
Every heater installation that we do is performed according to manufacturer specifications so we can be sure that your heater was put in the right way. Your The Woodlands heating technician will test your new heater, too, to ensure proper functioning so you'll know you can stay warm all winter.
The Woodlands Heating Maintenance
Regular heating maintenance in The Woodlands and the surrounding area is a terrific way to help reduce the need for heating repair and extend the life of your heating system. This can help catch any problems before they become a bigger deal and can keep your heater running efficiently all winter long.
You may need to have regular heating maintenance to maintain your warranty. If your heating system is still under warranty, check the policy. Many manufacturers require you to have your system checked by a professional once or twice a year, in order to ensure that things are kept in great shape.
Furnaces are a great heating option for many homeowners in The Woodlands and the greater Houston area. Furnaces offer efficient and comfortable heating and are actually fairly inexpensive to install. Our friendly The Woodlands heating technicians have years of experience working with all different types and brands of furnaces, so call Expert Air whenever you need furnace help!
Heat pumps are one of the most efficient heating and cooling systems on the market. If you're interested in heat pump installation make sure that it is handled by the heating professionals at Expert Air Cooling & Heating. We can also help you replace your current heat pump with a new, more efficient model.
Because heat pumps provide both heating and cooling for your home, they undergo wear and tear every single day. All that use can take its toll on your heat pump, which means that it will likely need repair at some point. Call The Woodlands heating repair technicians at Expert Air if your system isn't working well or if it has started to make a strange noise. We can also help you set up regular heat pump maintenance!
Hybrid heating systems provide homeowners with incredible efficiency during the cold winter months. As the temperature outside drops, your heat pump will start to work less efficiently to
heat your home. A hybrid heating system pairs a heat pump with a furnace that will automatically kick on when your heat becomes inefficient due to the cold temperatures outside.
We also offer comprehensive boiler services in The Woodlands and the greater Houston area so there's no boiler issue we can't solve for you. Our boiler experts can handle any boiler repair that your system needs or they can help you install a new boiler. We can also maintain your system to help keep it running well, both now and for many years to come
Ductless mini-split systems have been around for a very long time but are now becoming popular among homeowners. They offer very efficient heating and cooling that can be adjusted individually for each room. At Expert Air, we can repair, maintain, install or replace all makes and models of ductless mini split systems.
Zone control systems allow homeowners to control exactly which parts of their homes get heating or cooling. Instead of heating or cooling your entire home, you can focus your efforts solely on the occupied areas of your home. This may be able to reduce the amount of energy that you use in your home.
Professional Heating Help in The Woodlands, TX & Beyond
The friendly and knowledgeable heating technicians at Expert Air Cooling & Heating offer a huge range of heating services throughout The Woodlands and the Houston, TX area. Having your home's heating system installed, repaired, and maintained by a professional contractor is a great way to make sure that you stay comfortable all winter long. Reach out to us for help with your heating today!
Be Cool, Save Money
Protect your home with the latest technology and worry less with a lifetime guarantee on service parts. Join the Expert Air Maintenance Plan today!