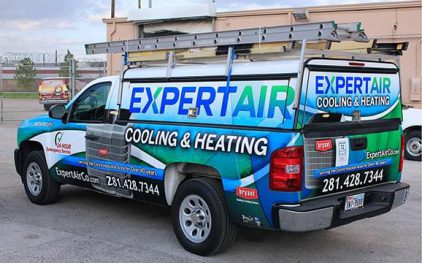 VRV Commercial HVAC The Woodlands, TX
Taking commercial space to the next level of comfort for all staff with the option for individual room or floor zone control. You no longer have to be stuck in a one-option temperature war with staff members.
VRV technology is "Variable Refrigerant Volume." Employee satisfaction with the overall long-term cost-savings method for management.
Expert Air has certified and experienced commercial HVAC technicians in installing, repairing, and maintaining VRV units. Reach out to us today!
What is a Variable Refrigerant Flow or VRF HVAC system?
Variable Refrigerant Flow, or VRF HVAC systems, have been the commercial HVAC system of choice for businesses in China, Japan, and Europe for many years. Like standard central air conditioning systems used for residential and light commercial spaces, VRF HVAC systems are air-cooled and refrigerant-based, using outdoor condenser units and indoor fan coil units.
VRF HVAC system features are unlike the traditional units that are noisy and only provide space as a whole, and instead, it uses several smaller air handlers that can be individually controlled and piped back to one system. The term variable refrigerant flow, or VRF, refers to the system's ability to control the amount of refrigerant flowing to each of these small air handlers.
This sophistication of VRF HVAC technology is capable of providing not only cooling but also heat and even both simultaneously to different areas within the space. The use of multiple indoor units provides the ability to create zones that can be individually controlled. What's more, these VRF HVAC systems are very quiet and energy-efficient because the variable-speed compressor runs only at the capacity needed for the current conditions.
Efficient and Energy-Saving
Entirely Flexibility
Saves on Space
Completely Reliable
Consistent Comfort
Nearly Silent Operations
Cool & Heat Concurrently
Zone Cooling & Zone Heating
Contact the commercial HVAC pros at Expert Air Cooling & Heating today for all of your VRV needs in The Woodlands, TX or the surrounding area.
Be Cool, Save Money
Protect your home with the latest technology and worry less with a lifetime guarantee on service parts. Join the Expert Air Maintenance Plan today!