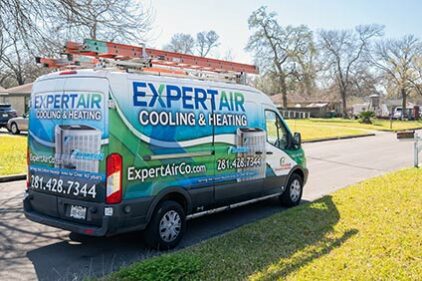 Dehumidifiers The Woodlands, TX
When you live in Texas, you know how hot and humid the summers can get. When the temperature rises the humidity does too. High humidity, in addition to being uncomfortable, can also cause other problems for your home. That's why, At Expert Air, we offer a full range of dehumidifier services in The Woodlands, TX and surrounding area. Our indoor air quality experts are dedicated to the complete satisfaction and comfort of our customers. Our HVAC technicians are NATE–certified because we want to know that they're able to provide you with quality service that is fast and reliable. For dehumidifier installation, repair and maintenance, call us at Expert Air!
The Importance of Dehumidification
There are a number of negative consequences of high humidity in your home. First, you may start to notice that your house feels stuffy and uncomfortable. Moisture in the air can make the temperature feel warmer than it is. Also, you may notice an increase in mold growth. Mold grows where there is moisture and oxygen. So if the moisture levels in your home increase there will be more places for it to grow. Finally, dust mites tend to reproduce faster in humid environments. For people with allergies, dust mites and their droppings are often triggers. If you need dehumidifier installation call Expert Air. We can help you pick out a system that matches your budget and the size of your home.
As a homeowner, you always want to be comfortable in your home. If you have too much humidity in your air then your home might be uncomfortable to be in. If you've ever felt the hot, sticky humidity of the Texas summer then you know that you don't want that feeling in your home. A dehumidifier will remove some of that moisture so that your air will be dryer and more comfortable.
If you have started to notice moisture or mold starting to grow in more places in your home then it probably means that you have high humidity. Mold grows in areas with plenty of moisture and oxygen. You may start to see mold growing in more places in your bathroom, around your laundry area, or kitchen—any areas that have lots of water.
While a typical air conditioning system usually acts as a dehumidifier, there can definitely be situations where additional help is needed. Whole-home dehumidifiers are typically installed in your ducts or in your air handler. There, they can have access to all of the conditioned air that travels into your home. If they detect too much moisture in the air they can remove it and drain it away. When the air outside is humid, a good dehumidifier is a great way to control the levels of moisture in your home.
If you've started to notice that your home isn't as comfortable as it used to be it could be that your dehumidifier is broken. You could see an increase in moisture on the walls or an increase in mold growth. Make sure that you call Expert Air for any dehumidifier repair. Our technicians are experts and have years of experience working with many different types and brands of dehumidifiers. We can help you get your system working well again so that your home will be comfortable.
For all your dehumidifier installation, repair and maintenance call Expert Air. No matter what type or brand of dehumidifier we have we can work on it. Call us today at 281-428-7344.
Professional Dehumidifier Help in The Woodlands & Beyond
Call Expert Air Cooling & Heating for reliable dehumidifier installation and repair services in The Woodlands TX, and surrounding areas today!
Be Cool, Save Money
Protect your home with the latest technology and worry less with a lifetime guarantee on service parts. Join the Expert Air Maintenance Plan today!