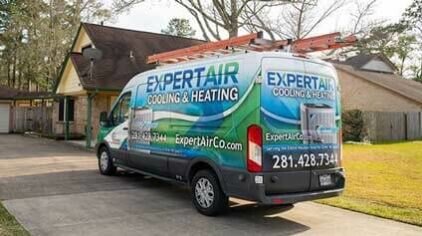 Duct Repair & Replacement The Woodlands, TX
Expert Air is proud to provide outstanding duct repair and duct replacement in The Woodlands, TX and the surrounding area. You may not ever think about your ducts, but they do a ton of work every year delivering many thousands of cubic feet of air into your home. With all that use they will eventually have problems and need to be repaired or replaced.
At Expert Air, our indoor air quality specialists know how important it is for you to be comfortable in your home. If you have a forced-air system like a furnace or a heat pump, then your ducts are responsible for delivering the heated or cooled air into your home. If you start to have problems with your ducts it could impact your ability to stay comfortable. Don't let that happen; reach out to us today!
Common Duct Repairs
The ducts in your home are like the veins of your heating and air conditioning system. If they are pinched, bent, or leaking, they could present a serious problem to your home. At Expert Air we offer fast and accurate duct repair. We've seen all kinds of problems from bad installation to clogged ducts. These are a few of the most common duct repair issues that we run into.
If the ducts in your home are creaking, cracking, moaning, or rumbling it likely means that there's something wrong with them. Sometimes, noisy ducts can just be the ductwork expanding at the air that's moving through them. But it could also be that your ducts have holes in them, that they're rubbing against something, or that they were installed poorly.
If your home isn't getting enough cooling or heating, there is a wide variety of problems that could be the cause. One of those things is bad ducts. If your ducts have collapsed or if they're pinched, it could restrict the flow of air through them. This would prevent the heated or cooled air from your AC and heating system from getting into your home. Sometimes this issue requires rearranging the ductwork but it might also mean that you need to have new ductwork installed.
Another common duct repair is the development of a leak or crack. Any holes in your ductwork obviously present a huge problem for the efficiency of your home. All of the heated or cooled air coming into your house has to pass through the ducts, which means that it will be constantly leaking hot or cool air. Getting your ducts regularly inspected and repaired is one of the only ways of detecting if your ducts are working well.
No one wants to have to replace the ducts in their home. Unfortunately, like all things, your ductwork will eventually reach a point where repairs just won't do the job. At Expert Air, we provide complete duct replacement. Knowing when it's time to replace your ducts can be tricky. One of the main indicators is the age of your ducts. If you've just moved into a house that has never had its ducts repaired or sealed, it might be best to start with a clean slate and have the ducts replaced. This is particularly true if you live in an old home.
The Woodlands Duct Repair & Replacement Pros
The importance of the ducts in your home should not be underestimated. For all your The Woodlands duct repair and duct replacement needs, trust Expert Air. We can get to your house quickly, find the problem, and offer a reasonable solution. Call us today!
Be Cool, Save Money
Protect your home with the latest technology and worry less with a lifetime guarantee on service parts. Join the Expert Air Maintenance Plan today!