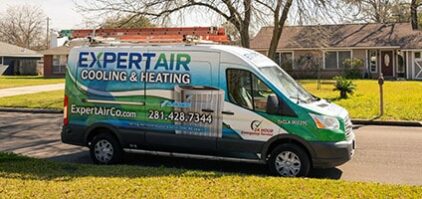 Heat Pump Service The Woodlands, TX
If you use a heat pump in The Woodlands, TX to keep your house warm in the winter, you probably know how hard it can be to find someone reliable to work on your heating system and keep it in great working order. At Expert Air, we keep Baytown heat pump repair and heat pump service specialists on staff, just to work with customers like you. Just call us to schedule a maintenance visit or to let us know that your heat pump is not working, and we'll be there fast to get you the heat you need.
Call us now for heat pump repair in The Woodlands, TX or any other heat pump service you need!
Heat Pump Repair in The Woodlands, TX
If your heat pump is broken, don't despair; just call Expert Air Cooling & Heating for heat pump repair in The Woodlands, TX. Say, "Please fix my heat pump!" and we'll send out an experienced heat pump technician at a time that's convenient for you.
We'll talk to you about what you've been experiencing with your pump, then get right to work testing each part until we find out why your heat pump is not working. We'll then get your heat pump repair in The Woodlands, TX completed ASAP!
Call us as soon as you realize that your heat pump is not working the way you need it to. Don't let these problems wait because they usually get worse. If you contact us right away for heat pump repair in The Woodlands, we may be able to fix things before your heater dies entirely. If you notice any of the following problems, reach out to us for The Woodlands heat pump repair right away:
Your heating bills keep going up. If there's no other explanation, there's a good chance that the problem lies with your heat pump in The Woodlands. We'll come out and help it work efficiently again so your bills get lower.
You hear unusual sounds coming from your heat pump or whenever you use your heating system. These sounds can be any number of things but they definitely indicate that your heat pump is not working the way it should be.
Your heat is uneven. If parts of your home are overly warm and others are cold, the issue likely lies with your The Woodlands heat pump. We'll find the cause of the problem fast!
You're not getting warm even though your heat pump seems to be working well. You should be as warm at home as you've been in years past. If you aren't, we'll find out what's gone wrong with your heat pump in The Woodlands, TX and get you warm again soon.
When it's time to install a new heat pump in The Woodlands, TX or replace your current one, we'll get your heat pump installation completed as soon as possible. We'll install according to the manufacturer's specifications, then make sure your heat pump works before we leave. We'll ask you to test it, too, just to make sure it is functioning the way you expect it to.
If it's time for a heat pump replacement just let us know. Similarly, we will tell you if we think heat pump replacement would be better for you than repair. If you choose to get a new heat pump, we'll help you find one that will be perfect for your home. Then we'll order it and install it for you, too.
In this part of the country, the air conditioners in our homes tend to get most of the attention. This is only natural, as our summer weather is more intense and longer-lasting than our winter weather. That being said, though, there is still plenty of chilly weather to contend with around here. For that reason, your heating system is equally as important as your AC. What if, though, the two need not be mutually exclusive?
With a heat pump, they won't be. You can actually use the very same equipment in order to both heat and cool your home to ensure that your year-round comfort is uninterrupted. This is a major, though not the only, benefit of using a heat pump in order to both heat and cool your home. Give Expert Air Cooling & Heating a call with any questions that you may have regarding the use of a heat pump in The Woodlands or the greater Houston area, or to schedule heat pump services with a trained professional!
The heat pump benefits homeowners in a few different ways. As explained above, a primary benefit of the heat pump is that such systems are able to function all year long in order to both heat and cool homes.
Another bonus is that a heat pump is one of the most efficient of all home heating options. When you use a heat pump to heat your home, you are only going to require a small amount of electricity. This is because you're not really generating heat, but rather transferring heat into your home from the air outside. This is far more efficient than using electricity or gas combustion to actually generate heat with which to warm air.
Regular maintenance of your heat pump in The Woodlands can keep your system running well for a long, long time. Call us for a heat pump tune-up today and we'll make sure we get your system ready to keep you warm all winter long. Sure, heat pump service in The Woodlands, TX is an investment, but it's an investment in your home, your peace of mind, and your comfort when it gets cold outside.
A heat pump operates much like a central air conditioning system in many respects. Indoor evaporator coils team with outdoor condenser coils and the compressor, and a refrigerant cycle allows the system to remove heat from the air inside of a house and to vent that heat outdoors during the summer season.
However, the heat pump also sets itself apart in its ability to reverse its refrigerant cycle and, consequently, its entire mode of operation. During the mild winter season, the system absorbs existing heat from the air outside. Its warmed refrigerant is then further compressed, and its thermal energy is used to heat the home. This is how heat pumps can provide homeowners with year-round comfort.
Professional Help for You Heat Pump in The Woodlands, TX & Beyond
Considering that you will depend upon your heat pump all year long, as well as benefit from its outstanding efficiency levels, it only makes sense to ensure you get the very best performance the system has to offer. That means you should schedule your heat pump service in The Woodlands, TX with the skilled techs at Expert Air Cooling & Heating. Reach out to us today!
Be Cool, Save Money
Protect your home with the latest technology and worry less with a lifetime guarantee on service parts. Join the Expert Air Maintenance Plan today!