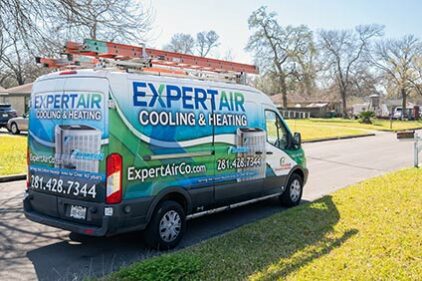 UV Germicidal Lights The Woodlands, TX
Expert Air offers quality ultraviolet light services in The Woodlands, TX and beyond. For homeowners interested in taking the next step when it comes to their indoor air quality, UV germicidal lights are a great option. While traditional air filters and air purifiers are able to capture many types of airborne contaminants, ultraviolet light actually destroys organic pollutants. When used in conjunction with air filters, UV lights are a terrific addition to any home's air quality control system. Our indoor air quality technicians are highly trained and have experience working with many types and brands of UV light systems. We can help you select a system that matches your budget and your home.
What are UV Germicidal Light Systems?
For those unfamiliar with ultraviolet germicidal lights systems, how and why they work can be a little confusing. Ultraviolet light is one of the most effective ways to kill microorganisms like bacteria and viruses. In fact, UV light is actually used in some laboratories and medical facilities to sterilize equipment. The key to its effectiveness is exposure time. The longer that the microorganisms are exposed to UV light, the better the chances are that they will be destroyed.
So how are UV germicidal light systems actually installed? UV light installation is actually very simple. While it's definitely easiest to put in a UV germicidal light system during new installation or when you replace your heating and air conditioning systems, the retrofit process is still very easy. The lights are thin and just need to be inserted into your air handler and ductwork and attached to a power source. After that, they just stay on and help keep your air clean.
We spend most of our time indoors at our home. Because of advancements in modern construction, most of our homes are pretty airtight. While that is great for the efficiency of your home, it can cause indoor air quality to suffer. Without the addition of fresh air, contaminants can start to build up inside your home and impact your comfort—especially if you or one of your family members suffers from allergies or asthma.
By reducing the number of contaminants in your air supply, you might be able to reduce the negative impact of allergy triggers like bacteria, pollen, pet dander, and dust. UV lights are an additional component of indoor air quality systems that adds another layer of protection. Bacteria, mold spores, and even viruses can be killed by UV germicidal lights. By destroying those particulates, you might be able to reduce the amount of mold in your home and the instances of sickness.
Because your UV light system operates out of sight, it's hard to tell if anything goes wrong with them. Getting regular maintenance for your heating and air conditioning system can help you stay on top of your UV light system. During regular maintenance visits, our technicians will make sure that all of your UV lights are working well.
For all your UV germicidal light installation, repair, and maintenance in Houston, TX call Expert Air Cooling & Heating!
Be Cool, Save Money
Protect your home with the latest technology and worry less with a lifetime guarantee on service parts. Join the Expert Air Maintenance Plan today!