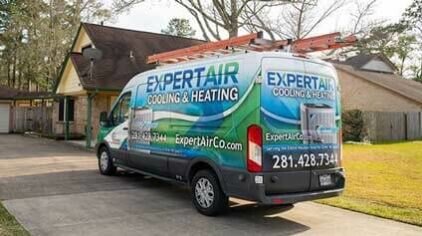 Heater Installation The Woodlands, TX
When it's time for a new heating system in your home, contact us at Expert Air Heating & Cooling for heater installation in The Woodlands, TX and surrounding area. We'll get to you fast, assess your system needs, then help you get the very best new heater for your home. Get warm again ASAP when you rely on our team today!
When is it Time for a New Heater?
If you're not sure when it's time to get a new heater, you aren't alone. Many homeowners hesitate because they don't want to invest the money if they don't have to or they don't want to go without heat while the installation is happening. If this describes you, these are some times when we think you definitely need a new heater in The Woodlands and the Houston area.
Your old heater isn't heating well. If the heater is working well but you're still cold at home, it probably needs to be replaced. It may have lost so much power that it can't keep you comfortable or it may be too old to continue heating well.
You need an expensive repair. If your heating repair costs more than half of what it would cost to replace the unit, it's time to think about a new heater. Sure, it's an investment, but it also means you won't have to worry about repairs for quite a while!
Your heater is aging. For the most part, heaters last between 10 and 20 years. If yours is getting up there, and especially if it needs repairs, it's time to get a new one.
You keep needing repairs. One or two heating repairs are okay, but when you call us more than that, or when you call us that much each year, it's time to consider a new heater!
You're worried about energy efficiency. An efficient heater will help you save on energy costs, especially if you're replacing an old version with one of the much more efficient new ones!
Get Your New Heater Installed Now!
Call our team to help with your heater installation in The Woodlands, TX and our team will match you with the perfect unit. We'll consider:
The size of your home
How often you use the heater
Whether You want an energy saving unit
Your budget
Then we'll match you with the very best heater for your needs.
The Woodlands TX Heating Installation Pros
Call us at Expert Air Heating & Cooling today, or anytime you're looking for information on heater installation in The Woodlands, TX area!
Be Cool, Save Money
Protect your home with the latest technology and worry less with a lifetime guarantee on service parts. Join the Expert Air Maintenance Plan today!