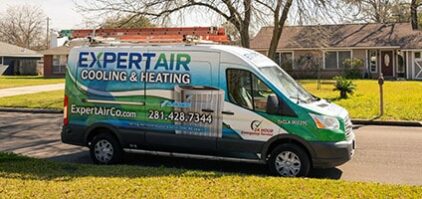 Hybrid Heating Systems The Woodlands, TX
For hybrid heating system services in The Woodlands and surrounding Houston area, make sure that you call the professionals at Expert Air Cooling and Heating. We provide hybrid heating system repair, installation, and replacement for many different types and brands of systems. Reach out to heating service pros for help today!
 What is a Hybrid Heating System?
For those who are wondering what exactly a hybrid heating system is here is a brief explanation. In short, hybrid heating systems usually combine a heat pump with a fuel-burning system like a furnace. During the winter when temperatures start to drop a heat pump will start to become less and less efficient. The colder the air temperature, the less available heat there is for the heat pump to gather so it has to work harder to provide enough heating for your home.
With a hybrid system, a furnace is attached to the heat pump and will kick on when the system detects that the heat pump has become too inefficient. In this way, the heating system in your home will retain much of its efficiency despite the severe cold outside and you'll stay comfortable in your home.
There are a few considerations to think about with hybrid heating installation. First, if your home doesn't currently have a gas line you may need to have one installed for the gas furnace. This could potentially be a huge undertaking. It involves digging a large trench from the street to your home where the gas line will be buried. However, if your home does have a gas line then you'll only have to run it to your hybrid system.  We can help you figure out where your new system should go and how it should be installed.
There are tremendous benefits to getting your hybrid heating system installed by a professional. First, the process will likely go a lot faster. Our technicians have years of experience working with many kinds of hybrid heating systems. They will be able to quickly get your new system up and running. Another huge benefit of professional hybrid heating installation is that it will be done with high quality.
If your heating system isn't working well make sure that you call Expert Air for hybrid heating repair. We know how important it is for you to stay comfortable in your home. That's why we take such great care with all of the repair work that we do. We arrive at your home quickly, find the problem, and fix it so that your home can be comfortable again.
Sometimes it can be hard to know when it's time to replace your entire heating system as opposed to just getting it repaired. If your hybrid heating system requires frequent repairs throughout the year it might actually make more sense to replace the entire system.
If you're interested in learning more about the benefits of hybrid heating systems just contact us at Expert Air. We can help you pick out a system that matches your home's needs and then install it for you so that it works well for many years.
Hybrid Heating Specialists in The Woodlands & Beyond
Call Expert Air Cooling & Heating for quality hybrid heating installation and repair services in The Woodlands, TX and surrounding areas. We're here to help!
Be Cool, Save Money
Protect your home with the latest technology and worry less with a lifetime guarantee on service parts. Join the Expert Air Maintenance Plan today!