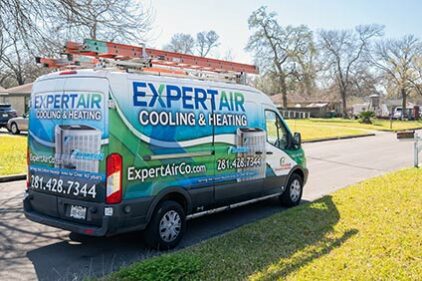 Blown-In Insulation The Woodlands, TX
The insulation professionals at Expert Air are proud to provide quality blown-in insulation installation in The Woodlands, TX and surrounding area. Blown-in insulation might be one of the most common insulation products available. It is a very efficient insulation system with many benefits for homeowners.
If you're interested in having your insulation inspected or replaced with blown-in insulation, call Expert Air. We have years of experience working with all different types and brands of insulation products. We want our customers to be comfortable in their homes and to be able to heat and cool their homes efficiently.
At Expert Air, we are dedicated to the complete satisfaction of our customers and to the quality of workmanship that we do. The insulation in your home is critical to your comfort because it allows you to keep more of the heat in your home and to keep the heat out when you want to. Our technicians are NATE–certified which means that they undergo regular training and testing to make sure that their skills are sharp. If you're interested in knowing if your insulation is in good condition or if you want to have blown-in insulation installation call Expert Air.
Blown-in insulation offers homeowners many different benefits. First, it can be made of recycled material which is a terrific way to make a positive impact on the planet. Another benefit that blown-in insulation offers is that it can get into all of the different cracks and corners of your home to provide a very efficient heat barrier. Rolls and batts are some of the most common insulation products on the market. You've likely seen them before—they are the pink or yellow rolls of fiberglass that can be found in countless homes. Blown-in insulation can more thoroughly cover and fill the spaces in your home to protect them from heat gain or heat loss.
One of the other terrific benefits of blown-in installation is that it can be installed very easily and quickly. All you have to do is choose the material that you would like to use as your insulating material and then the professional technicians at Expert Air can install it. The process involves using a large pipe to literally blow the insulation into place. For blown-in insulation installation, call the professionals at Expert Air.
There are a few types of blown-in insulation that are available. Cellulose is one of the most popular blown-in materials because it is made with recycled cardboard or paper. Fiberglass insulation is similar to roll and batt except that it is loose—the same is true of mineral wool.
Blown-In Insulation Specialists in The Woodlands
If you need any kind of blown-in insulation installation in The Woodlands, TX or the surrounding area, call Expert Air Cooling & Heating. We'll get to you quickly, inspect your insulation, and get to work straight away.
Be Cool, Save Money
Protect your home with the latest technology and worry less with a lifetime guarantee on service parts. Join the Expert Air Maintenance Plan today!