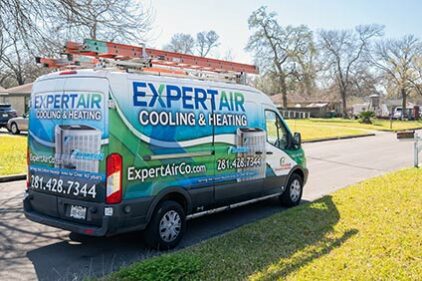 Air Filtration & Purification The Woodlands, TX
Expert Air provides complete air filter and air purifier services, including air filter installation and repair. You probably spend the majority of your time indoors. Because of that, the quality of air that you breathe in your home should be a huge priority. Most of us seal up our homes during the hot and cold months in order to keep more of the heated and cooled air in our homes.
While that can definitely help increase the energy efficiency of your home, it may also trap indoor air contaminants in your home. However, with an air filter or air purifier, you can actually remove many of those contaminants from your air thereby increasing its quality. So reach out to our indoor air quality experts today for help with air filtration or purification in The Woodlands, TX and surrounding area!
What Are Air Filters & Purifiers?
We often get asked about air filters and purifiers. While most homeowners deduce that air filters and purifiers work to clean the air in your home, how they do it and where is not always straightforward. Air filtration and purification systems are typically installed in the ducts in your home. This location allows them to interact with all of the air that comes into your home through the HVAC system. As the air passes through them they remove or destroy certain types of contaminants.
There are a few different methods of air filtering and purifying available. Each has unique advantages that should be weighed before making a decision. If you would like help with your air filtration installation call Expert Air. We can help you figure out which system is best for your home.
The mechanical air filter most closely resembles the air filters that you're likely familiar with from your car. They use dense media, sometimes made of fiberglass, to capture particles of a certain size. Different mechanical air filters are able to capture larger or smaller particles depending on the application. HEPA filters are mechanical filters but are typically used in hospitals or other commercial environments. HEPA filters are typically too dense to work in residential situations because they are built to capture some of the smallest pollutants.
Electronic air filters are also very effective at removing contaminants from the air. As their name implies, they use an electronic charge, similar to static electricity, to charge contaminants in the air and pull them onto a collector plate. This plate needs to be cleaned regularly to remove the old contaminants.
Like most components of your home's heating and air conditioning system, your air filter or air purifier system should always be installed by a professional. Installing air filters is easiest to do during new construction or HVAC system replacement. However, they can often be easily retrofitted into your home's ducts and air handler.
Like everything else, your air filtration or air purification system will eventually need to be repaired. For air filter repair or air purifier repair call Expert Air. If you've started to notice that your home isn't getting as cool or warm as it used to, you may have a clogged air filter or a broken air purification system. Our technicians have years of experience working with all types and brands of air filtration systems. We'll be able to find the problem quickly, fix it and let you get back to enjoying the comforts of your home.
Professional Air Filtration & Purification Help in The Woodlands
For all your air filtration or air purification installation, repair or maintenance service needs, call Expert Air Cooling & Heating today!
Be Cool, Save Money
Protect your home with the latest technology and worry less with a lifetime guarantee on service parts. Join the Expert Air Maintenance Plan today!