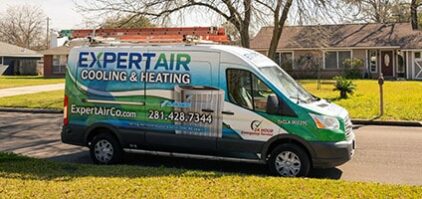 Radiant Barriers The Woodlands, TX
When you live in Texas, keeping your home comfortable is a huge priority. Radiant barriers are a great way to make sure that your home operates as efficiently as possible. Even though traditional insulation is good at protecting your home from heat loss or heat gain, radiant barriers add another layer of protection and efficiency to your home.
At Expert Air, our insulation service pros provide total radiant barrier installation in The Woodlands, TX area and beyond. At Expert Air, we are dedicated to your complete satisfaction and to the quality of work that we do. That's why our technicians are NATE–certified so that we know that they're able to provide you with quality work. If you're interested in learning more about radiant barrier installation call the friendly professionals at Expert Air!
What Are Radiant Barriers?
Getting radiant barrier installation at your The Woodlands home is a terrific idea. While traditional blown-in insulation and rolls and batts are a great addition to your home, radiant barriers protect your home from a specific type of heat transfer. Heat moves in three ways: convection, conduction, and radiation. Convection is the movement of heat through liquid and air—which is why heat rises to the top of your home or swimming pool. Conduction is the transfer of heat between objects—like when you put a spoon in a hot cup of coffee and it heats up. Thermal radiant is the movement of energy through space in the form of electromagnetic waves. While the insulation in your home is able to protect you from conduction and convection, it is harder for it to stop heat radiation.
A radiant barrier is essentially a reflective material that is layered over the substrate of your roof or attic to protect against radiant heat from the sun. This can significantly improve the energy efficiency of your home by keeping more heat out of your attic. As radiant heat strikes your home, the reflective nature of the radiant barrier will reflect the heat back out.
Radiant barriers are extremely efficient—they can reflect up to 90% of the radiant heat that hits them. This means that less than 10% of the heat is allowed to pass through the thermal barrier and into your home. It is likely that most of the heat gain in your home during the summer is from the attic. This means that your AC system has to work harder to remove that heat. With a radiant barrier, you'll probably be able to reduce the amount of energy that you use to cool your home by reducing heat gain from your attic.
During the winter months, radiant barriers may also be able to help reduce your energy usage to heat your home. By reflecting radiant heat that is escaping your home, you'll likely be able to keep more heat inside your home and reduce heat loss.
Texas gets a lot of sunshine during the year. If you're interested in learning more about the benefits of radiant barrier installation in The Woodlands, TX or the surrounding area, call Expert Air Cooling & Heating today!
Be Cool, Save Money
Protect your home with the latest technology and worry less with a lifetime guarantee on service parts. Join the Expert Air Maintenance Plan today!