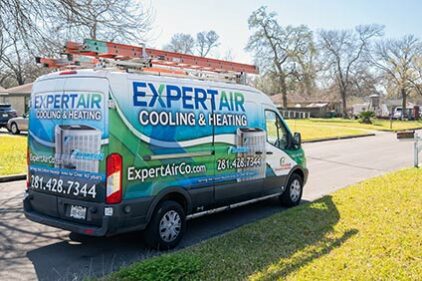 Insulation Services The Woodlands, TX
The insulation in your home is your last defense against energy loss. Once the heated or cooled air gets into your living space, the insulation in your walls, floors, and, in particular, your attic is the only thing keeping that heat in or out.
If you've never had your insulation inspected, consider calling The Woodlands HVAC pros at Expert Air Cooling & Heating. We offer comprehensive insulation services in The Woodlands, TX area, including installation repair and installation. We have years of experience offering blown-in insulation, attic ventilation services, and radiant barriers. These are all great ways to increase the energy efficiency of your home.
Here at Expert Air, we are dedicated to customer service and the quality of workmanship that we provide. We want you to be comfortable in your home and we also want your home to be as energy-efficient as possible. The quality of your home's insulation is a critical part of making sure that you aren't wasting energy. If you're interested in learning more about the insulation services that we offer call the insulation professionals at Expert Air.
Expert Air provides complete blown-in insulation installation. Blown-in insulation is one of the easiest forms of insulation to install. There are typically three types of blown-in insulation: fiberglass, cellulose, and mineral wool. Cellulose is normally made out of recycled newspapers or cardboard that has been specifically treated to resist insects and fires. Mineral wool is also made out of recycled materials like slag steel or rock. Blown-in insulation can be added on top of your existing insulation or as new insulation.
Proper ventilation in your attic is a huge part of your home's energy efficiency. There are many different products available on the market that can help keep your attic cool and dry during the summer and also protect it from rain during the winter. Expert Air offers complete attic ventilation installation for all types of ventilation products. Our expert technicians can help you pick out a ventilation system that is right for your home and your budget.
Let's be honest, Texas can get seriously hot. Heat moves in three ways: convection, conduction, and radiation. Most insulation products are only designed to resist heat transfer through convection and conduction. Radiant barriers are designed to protect against that third form of heat transfer. They are easiest to install during new construction but can also be retrofitted onto your home. They consist of a sheet of reflective material, like aluminum foil, that gets installed on the substrate. Radiant barriers are normally installed in attic spaces or roofs. Expert Air can provide fast and reliable radiant barrier installation.
The Woodlands Insulation Pros
No matter what kind of insulation services in The Woodlands, TX you need, call the friendly technicians at Expert Air Cooling & Heating!
Be Cool, Save Money
Protect your home with the latest technology and worry less with a lifetime guarantee on service parts. Join the Expert Air Maintenance Plan today!