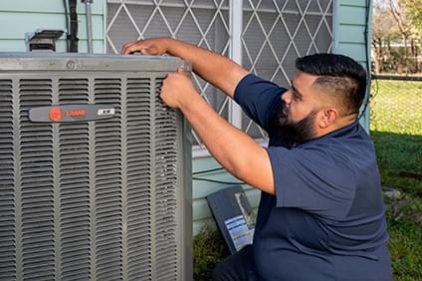 HVAC Baytown, TX
When you need help with your HVAC in Baytown, TX, trust Expert Air. Our HVAC services in Baytown, TX are all-encompassing and include heating, cooling, and indoor air quality services. Whether you need something repaired or replaced, we'll send out an experienced and knowledgeable HVAC contractor in Baytown, TX who will get to you quickly and get your system working as it should before you know it.
Reach out to Expert Air Cooling and Heating for help with your Baytown HVAC today!
HVAC Baytown, TX
As one of the leading heating and cooling providers in the area, we offer a full range of HVAC repair in Baytown, TX. We'll repair your HVAC system no matter what. There's no job we won't take on for you, and no project that is too big or too small for our team. Call us as soon as you notice an issue and we'll send out a Baytown HVAC expert quickly to solve it!
Baytown HVAC Replacement & Installation
When it comes to HVAC in Baytown, you want to make sure you're getting the greatest system for your needs. When you enlist our assistance with your next Baytown HVAC installation, we will match you with a unit that is appropriate for your home, preferences and budget.
We'll install your new Baytown HVAC system per manufacturer specs, so you won't have to worry about it breaking down anytime soon, and we'll be sure to test everything as we go, and again before we leave.
Baytown HVAC Maintenance
Don't ignore your HVAC in Baytown, TX! At least once a year, contact our staff for maintenance. We'll evaluate the system, update your filters, and let you know if we need to perform any HVAC repair in Baytown, TX to keep everything running smoothly.
We offer expert help for your air conditioning in Baytown, TX. We'll work with you to make sure we fix your central AC or your ductless mini split unit fast, so you can get everything back to normal soon.
Our air conditioning Baytown TX experts have you covered when it comes to repairing your air conditioner in Baytown, TX. We'll fix your AC unit fast so you can get cool at home again ASAP.
We'll also help you replace your old unit with a new one. Our Baytown air conditioning installation team will match your family with the best air conditioner for you, then install it and test it before we leave, too.
Air conditioning repair in Baytown TX can help your unit work efficiently for many years. No matter what type of AC you have, we'll get an experienced HVAC contractor in Baytown, TX on the job to keep it in great shape.
Call Expert Air today for the coolest AC repair in Baytown TX!
Wondering whether or not you need air conditioning repair in Baytown, TX? Expert Air is here to help! It might be time to call us for air conditioning repair in Baytown, TX if you are experiencing the following:
Increased energy bills
Uneven cooling throughout your home
Never feeling cool inside
Strange smells coming from your air conditioner
Even if your gut is telling you something is wrong with your Baytown AC, give us a call and our professional technicians will diagnose your system and let you know if you need air conditioning repair in Baytown, TX!
Getting your heating in Baytown TX working again is one of our specialties. Call our Baytown HVAC pros when you need heating repair and we'll get to you quickly. We'll fix your furnace, boiler, or heat pump ASAP.
Heater replacement is easy when you have our Baytown HVAC experts working for you. We'll handle every step of the process, including your heater installation.
Our team will maintain your heater, too. We'll do whatever it needs based on the type of unit you have so it will function well for years to come.
Furnace repair in Baytown TX is only one call away! Don't wait 'till it's too late!
When it comes to your Baytown HVAC system, we can also help you improve your indoor air quality.
We can help you find the air filtration or purification system you need to keep your air clean.
We can also install whole-home or room dehumidifiers. This helps your Baytown HVAC system run more efficiently and makes it easier to breathe, too.
If your ducts have small holes, we'll bring in our duct sealing team to fix those fast.
We can also repair larger duct problems or replace all or part of your duct system. This keeps your hot and cold air inside your home so you aren't heating and cooling the outside. Call the best HVAC contractor Baytown has to offer!
Insulation helps keep you comfortable all year round and our Baytown HVAC contractors just so happen to be experts in this area as well. If blown-in insulation is the right solution for you, we'll get you as much insulation as you need to make your home more efficient.
If your problem is with attic ventilation, we'll make sure you have the air flow you need for maximum comfort.
Our Baytown HVAC experts can also install a radiant barrier to prevent heat transfer through radiation. We'll retrofit this to your home to help you save energy.
We'll work on your commercial HVAC in Baytown, TX no matter what kind of business you run. Our team will make sure we take care of any repair calls quickly, so you can keep running your business as usual.
We can also help you with any Baytown HVAC installation needs. Whether you need new components or a whole new system, our HVAC contractors in Baytown have you covered!
Finally, we'll maintain your commercial HVAC system in Baytown so you won't have to worry about sudden breakdowns or catastrophic problems.
Trusted Baytown HVAC Service
Whether you need your insulation replaced, or need a new air conditioner installed in your commercial building, Expert Air Cooling & Heating is here to help. Give us a call today, or anytime you need help with your HVAC in Baytown, TX!
Be Cool, Save Money
Protect your home with the latest technology and worry less with a lifetime guarantee on service parts. Join the Expert Air Maintenance Plan today!