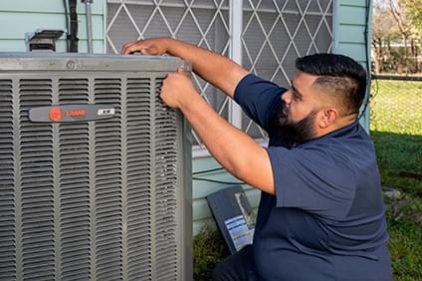 HVAC Baytown, TX
When you need help with your HVAC in Baytown, TX, trust Expert Air. Our HVAC service in Baytown, TX is all-encompassing, and includes heating, cooling and indoor air quality services. Whether you need something repaired or replaced, we'll send out an experienced and knowledgeable HVAC contractor in Baytown, TX who will get to you quickly and get your system working as it should before you know it.
Reach out to Expert Air Cooling and Heating for help with your Baytown HVAC today!
Air Conditioning
We offer  expert help for your air conditioning in Baytown, TX. We'll work with you to make sure we fix your central AC or your ductless mini split unit fast, so you can get everything back to normal soon.
We have you covered when it comes to repairing your HVAC in Baytown, TX. We'll fix your AC unit fast so you can get cool at home again ASAP.
We'll also help you replace your old unit with a new one. Our team will match your family with the best air conditioner for you, then install it and test it before we leave, too.
AC maintenance can help your unit work efficiently for many years. No matter what type of AC you have, we'll get an experienced HVAC contractor in Baytown, TX on the job to keep it in great shape.
Trusted Baytown HVAC Service
Whether you need your insulation replaced, or need a new air conditioner installed in your commercial building, Expert Air Cooling & Heating is here to help. Give us a call today, or anytime you need help with your HVAC in Baytown, TX!
Be Cool, Save Money
Protect your home with the latest technology and worry less with a lifetime guarantee on service parts. Join the Expert Air Maintenance Plan today!