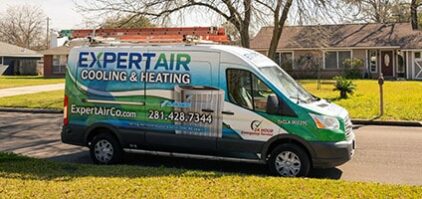 Thermostat Services The Woodlands, TX
Expert Air offers complete thermostat services in The Woodlands, TX and surrounding area, including thermostat repair and thermostat installation. Many homeowners underestimate the importance of their home's thermostats. At Expert Air, our heating and cooling technicians have years of experience working with all types and brands of thermostats. From digital and manual to programmable and wireless thermostats, we do it all.
If your air conditioning system or heating system isn't keeping your home comfortable, it is possible that the thermostat is to blame. We know how important comfort is in your home. Having your thermostats installed and repaired by a professional is a great way to make sure that your AC and heating systems can accurately adjust the temperature in your home.
Digital Vs. Programmable Thermostats
For homeowners looking for more control over their air conditioning and heating systems, programmable thermostats are a great addition. While digital thermostats allow for precise and convenient temperature control, programmable thermostats offer an additional benefit.
With a programmable thermostat, you'll be able to set certain times when you want your heating or AC system to turn on or off. That way, you don't have to worry about leaving your air conditioning system on while you go to work. You may also potentially reduce the amount of energy that your home uses. You can set your HVAC system to turn off when you leave in the morning for work and then turn it back on again 30 minutes before you get home.
If you have any questions about programmable thermostats don't hesitate to call the friendly professionals at Expert Air.
The thermostats in your home should last for many years. But like most things, they may eventually break and need repair or replacement. The professionals at Expert Air have worked on all different types and brands of thermostats. One of the most common thermostat repairs occurs when the thermostat can't accurately detect the temperature in your home. This results in inadequate cooling or heating. This can be caused by low batteries, loose wiring, or excessive dust in the thermostat.
Having new thermostats installed is usually a pretty easy process. However, because your thermostats control your entire heating and air conditioning system, you should probably have any thermostat installation done by a trained professional. At Expert Air we have years of experience installing all different types and brands of thermostats. If you're interested in upgrading your manual thermostats to digital ones, we can help with that as well.
If you've just moved into a new home that has a manual thermostat you may be interested in switching to digital. We often get asked about the differences between manual and digital thermostats. For the most part, other than the digital display, both perform the same essential functions. The only real difference is how they detect temperature. The circular, manual thermostats use coils that expand or contract with the temperature. Digital thermostats use an electronic sensor to detect the internal temperature of your home.
Experienced Thermostat Techs in The Woodlands
If you need thermostat installation or repair in The Woodlands area, call the friendly air conditioning and heating professionals at Expert Air. We can help you figure out if you need thermostat repair or if you need thermostat replacement.
Be Cool, Save Money
Protect your home with the latest technology and worry less with a lifetime guarantee on service parts. Join the Expert Air Maintenance Plan today!