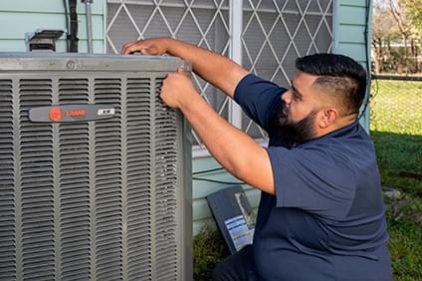 Central Air Conditioning The Woodlands, TX
Chances are that you do not need us to tell you just how intensely hot the summer weather can be in this part of the country. It is for precisely this reason, after all, that your central air conditioning in The Woodlands, TX plays such a huge part in your life. If you are serious about living comfortably in your home during the hottest time of the year, then you absolutely must invest in a quality central air conditioning system.
However, you must also keep in mind that investing in a great central AC system is not in and of itself a guarantee that you'll be able to cool your home successfully and according to your own high standards. You must also ensure that your new central cooling system is installed and serviced by skilled, trained professionals. Doing so is simple, and reading this means that you are in the right place already. Just call our number and schedule your central AC services with the pros on the Expert Air Cooling and Heating team.
How Does a Central Air Conditioner Work?
A central air conditioner is, at least in theory, a relatively simple closed system. It is a split system, with indoor and outdoor components. The evaporator coil is situated indoors, while the condenser and compressor are kept outdoors. The refrigerant in the system is cold in the evaporator coil and absorbs heat from the air passing over it. This cools the air, which is then redistributed throughout the house.
The refrigerant then makes its way to the outdoor unit of the system, where it is condensed, shedding its heat rapidly, before making its way inside to get the process started again.
There are a few ways in which using a central air conditioning system can benefit you. First of all, central air conditioners are far more convenient than using multiple window units throughout your home. It is controlled by a central thermostat—or maybe zoned for even greater control—and it doesn't jeopardize your home's security, as window units may.
Plus, central air conditioners are more effective, and they are also more efficient. Our summer weather is far too hot to be paying an arm and a leg to run multiple inefficient units throughout our homes.
Contact us today if you are ready to take advantage of all that a central air conditioning system has to offer!
Even the best central air conditioning systems on the market today may fail to live up to your expectations. How is that possible, you may wonder? Well, if your central air conditioning installation is not up to par, then you cannot expect your system to excel. It must be appropriately sized for your home, and you must also ensure that its air ducts are well–designed and expertly installed.
Not only that, but your system must also receive routine air conditioning maintenance services, completed by a trained professional, and any necessary central AC repairs must be completed in a timely manner. To ensure that this is the case so that you can get the most from your central air conditioner, call us today to schedule service.
Expert Central Air Conditioning Service in The Woodlands & Beyond
When you need help with your central air conditioning in The Woodlands, TX or the Greater Houston area, reach out to the pros at Expert Air Cooling & Heating. Regardless of what's going on with your central air, we'll repair, maintain or replace it quickly. Give us a call today!
Be Cool, Save Money
Protect your home with the latest technology and worry less with a lifetime guarantee on service parts. Join the Expert Air Maintenance Plan today!