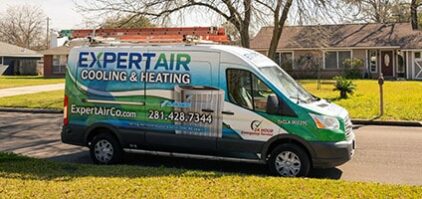 Attic Ventilation The Woodlands, TX
If you've ever had to go up to your attic in the summer then you know how hot it can get there. Having proper ventilation in your attic is a great way to help improve the energy efficiency in your home. That's why at Expert Air, we offer complete attic ventilation installation and repair. There are a huge range of attic ventilation products on the market and our insulation service specialists can help you choose which one is right for your home.
We are dedicated to the complete satisfaction of our customers and to the quality of our workmanship. We want our customers to be comfortable in their homes and to enjoy efficient heating and cooling. There are tremendous benefits to getting proper attic ventilation and the professionals at Expert Air have the experience and training to get it done quickly and with high quality.
Benefits of Attic Ventilation
Having good attic ventilation can help increase the efficiency of your home during both the summer and the winter. Expert Air provides complete attic ventilation installation. In the summer, the attic in your home will heat up and start to leak down into your home. With proper ventilation, that heat can be exhausted to the outside to lower the temperature in the attic. With the heat exhausted out of your attic, your air conditioning system won't have to work as hard to keep your home cool.
During the winter, good ventilation in your attic can also help. Moisture from your home can actually seep into your attic and start to cause problems. But with proper ventilation that moisture can be exhausted so that you don't suffer water damage or rotting insulation. Also, certain attic ventilation systems can be closed off to keep the cold air out of your attic which may allow it to stay warmer during the winter. Having good ventilation during the winter is just as critical. If you're interested in attic ventilation installation, call Expert Air. We can help you pick a good system that matches your home's needs.
Having a good attic ventilation system is critical for the energy efficiency of your home. Because of how important it is, you should probably get it installed by a professional contractor. At Expert Air, we've worked with many different types and brands of attic insulation systems. Our technicians have years of experience working with attic insulation systems. We can help you pick out a good system for your home and then make sure that it is installed correctly.
Like every other piece of equipment in your home, your attic ventilation system will eventually require repairs. If you've started to notice that certain parts of your house aren't as cool or warm as they should be, it could be that your attic ventilation system isn't working well. We've been in the heating and air conditioning business for many years. We've seen all kinds of ventilation issues. When you call Expert Air for attic ventilation repair we'll respond quickly and figure out the problem so that you can get your home comfortable again.
If you need any kind of attic ventilation installation or repair in The Woodlands, TX or surrounding area, call Expert Air Cooling & Heating. Our technicians are available 24/7 for any kind of emergency heating or air conditioning repair that you need!
Be Cool, Save Money
Protect your home with the latest technology and worry less with a lifetime guarantee on service parts. Join the Expert Air Maintenance Plan today!