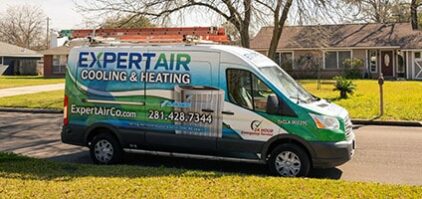 Furnace Service The Woodlands, TX
Whether you need furnace repair, furnace replacement, furnace installation, or pre-winter furnace service in The Woodlands, TX, you've come to the right place! At Expert Air Cooling & Heating, our heating service experts would love to help you out.
Call us for all of your The Woodlands furnace service needs. We'll make sure they are met and your expectations are exceeded. We want you to stay warm this winter and to be worry-free when it comes to your furnace. Contact us for furnace help today!
The Woodlands TX Furnace Repair
As soon as you have any reason at all to suspect that there is a problem with your furnace, call us to schedule The Woodlands, TX furnace repair. The longer that you wait to have your furnace repaired, the more likely it becomes that your system will suffer serious damages, fail entirely, or even create an unsafe situation in your home.
When you call us for furnace repair in The Woodlands, TX, we promise the following things:
We'll have someone at your door fast, at a time that works for you
Your furnace repair technician will arrive on time
Your furnace repair technician will treat your home respectfully, as if it was their own
We'll accurately assess your furnace issues and get the right furnace repair in place fast
Stop worrying about heater, and reach out to us for The Woodlands, TX furnace repair now!
Many homeowners think that they can only call for furnace repair in The Woodlands, TX when their heater stops working entirely. However, there are usually signs that your furnace is dying before that happens. Look for the following things, then call us as soon as you notice them
We'll do our best to complete your furnace repair in The Woodlands, TX or greater Houston area before your hot air disappears entirely. Call when:
Your furnace stops blowing hot air

Your furnace doesn't seem to be responding to changes you make to your thermostat

Your furnace turns off and on rapidly without heating anything

Your furnace won't turn off

You are cold at home even though your furnace seems to be running well
When it comes to heating homes, few systems boast the track record that the furnace does. For furnace replacement in The Woodlands, TX, both gas and electric furnaces are used throughout our area. If you are serious about heating your home in an effective and reliable manner, you cannot go wrong in investing in a furnace.
When it's time for furnace installation or furnace replacement in The Woodlands, TX, it absolutely must be completed by a skilled, trained professional. After all, the only way in which you can even hope to use your furnace safely is if it is installed properly every step of the way. You'll have no doubt about that when you work with us.
The first question that you should ask yourself when considering a furnace replacement in The Woodlands, TX is what type of fuel you'll use. Propane is an option to consider but must be delivered and stored on-site. Natural gas is piped directly to the furnace, and is quite affordable, but does require proximity to a natural gas main and that you have the necessary gas piping in place.
Electricity is a more expensive way in which to generate heat but is available just about everywhere, and modern electric furnaces do work with exceptional efficiency, though the price of the electricity itself may run a bit high. Once you've decided on this, we'll figure out just how big of a furnace you need to effectively and efficiently heat your home. You don't want an undersized system in your residence, but remember that bigger is not inherently better when it comes to a furnace.
Reach out to us if you have any questions or are ready to start your The Woodlands, TX furnace replacement!
With routine furnace maintenance in The Woodlands, TX and beyond, which entails a meticulous inspection and the thorough tuning–up of the system, you can help to keep your repair needs as few and far between as possible. You can also extend the life of your system, which means replacing it less often, if ever!
When you call us for furnace maintenance in The Woodlands, TX, we'll:
Visually inspect your whole HVAC system
Change your filters
Test each component of your furnace against the manufacturer's published standards
Clean out any dust and debris that may have gathered in your furnace
Let you know if anything needs to be repaired
Nothing lasts forever, including your heating system. Over time, the components of your heating system will wear down and occasionally fail. Whether you need a boiler tune up in The Woodlands or a full heating replacement, you can rely on Expert Air to take care of all your heating needs.
Call us immediately if you notice any of these signs of needing heating repair in The Woodlands, TX:
Your heating is not working

Your heater will not switch off or may cycle on and off so quickly that you will not get warm

Your heater is blowing chilly air

Your heater is generating unusual or loud noises

Your heater does not respond to temperature changes made at the thermostat

Even though the heater appears to be working well, you are too chilly at home

Your monthly energy bill increased unexpectedly
Furnace Service in The Woodlands, TX You Can Trust
Call Expert Air Cooling & Heating today to take advantage of our furnace service in The Woodlands, TX and greater Houston area. We'll make sure we get someone out to you soon and get your furnace working normally again fast. When you need furnace service you can count on and you're not sure who to call, remember us and make your appointment today!
Be Cool, Save Money
Protect your home with the latest technology and worry less with a lifetime guarantee on service parts. Join the Expert Air Maintenance Plan today!