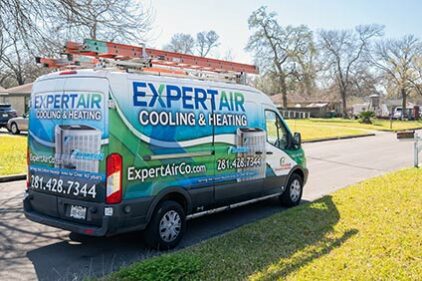 Indoor Air Quality in The Woodlands, TX
If you're concerned about your indoor air quality in The Woodlands, TX or the surrounding area, call Expert Air. We know how important it is to keep your home's air as clean as possible. In fact, the EPA estimates that poor indoor air quality is one of the top five leading threats to our health in the United States.
That's why our The Woodlands HVAC team provides expert indoor air quality installation, repair, and maintenance. Whether it's a whole-home air filter, humidity control, or duct sealing, the professionals at Expert Air can do it all. Call us today to learn more about the indoor air quality services we provide.
Modern construction allows us to seal up our homes tightly so that we can keep as much heated or cooled air inside as possible. While this is terrific for energy efficiency, it also traps air contaminants inside your home. Without any way for them to escape, those contaminants can build-up to the point where they can cause respiratory discomfort. That's where Expert Air comes in!
Having a whole-house air filter/air purifier installed in your ducts is a terrific way to remove many of the common air contaminants that can build up in your home. Depending on the type of air filter that you get, they will most likely be installed in your ducts or air handler so that all of the conditioned air passes through them. If you need air filter installation call Expert Air.
During the summer, moisture levels in the air tend to increase. Not only can this impact the comfort in your home it can also allow for increased mold growth. Also, dust mites populations tend to increase with high humidity. If you need dehumidifier installation or repair contact the technicians at Expert Air.
While ultraviolet light is only mildly harmful to humans, it is deadly to microorganisms. UV germicidal lights are a great addition to your home's air filtration system. They sit within your ducts where they destroy many types of organic contaminants like mold spores, bacteria, and viruses. We also offer advanced UV light systems, such as the installation of PHI–cell technology. Call us today to learn more about how UV light might benefit the indoor air quality of your home.
Most homeowners don't realize that all of the conditioned air in the home has to travel through a series of ducts. Without regular repair or maintenance, those ducts can start to wear out and leak. Duct leaks waste energy and can also invite in outside contaminants like mold, pollen, or even insects. If you've started to notice an increase in your utility bill or if your home isn't getting as cool or warm as it used to you may have a duct leak. Expert Air offers complete duct sealing.
Bad installation or general wear over time can cause issues with your ducts. If there are unnecessary bends or if your ducts have been crushed by some kind of debris, it can cause big problems for your home's comfort and efficiency.
One of the best ways that you can make sure that your ducts work well is to have them custom-designed. At Expert Air, we can build ducts specific to your home's needs so that they will work efficiently and last as long as possible. Contact the friendly technicians at Expert Air if you're interested in duct design.
The Woodlands Air Quality Specialists
At Expert Air Cooling & Heating, we have experience working with many homeowners to help them improve their The Woodlands indoor air quality and the efficiency of their heating and air conditioning systems.
If you're worried about your indoor air quality, or have any questions at all, reach out to us today!
Be Cool, Save Money
Protect your home with the latest technology and worry less with a lifetime guarantee on service parts. Join the Expert Air Maintenance Plan today!