The pros at Expert Air can help determine if a ductless mini-split system is right for your home.
You've seen the standard HVAC units that have a large unit on a concrete pad outside of your home. In fact, you may have two of them depending on the size of your home, and there is the corresponding ductwork in your attic that distributes the air conditioning or warm air throughout your home.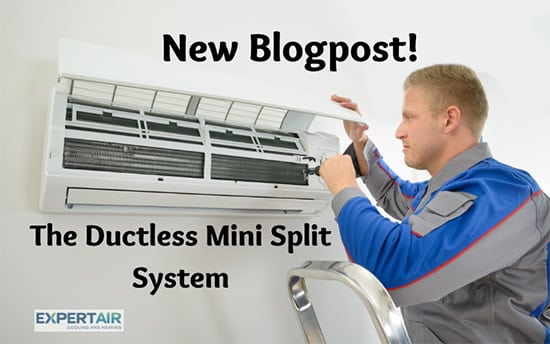 At Expert Air, we wanted to let you know that there are options besides the window unit or traditional HVAC system that may be more economical and efficient for your home. That is the ductless mini-split system. Ductless mini-split systems are ideal for older buildings, historical renovations, or homes that don't have room for large ducts in the walls or ceilings.
Ductless mini-split systems use wall-mounted, individual room units to provide heating and cooling to your home. These room units circulate the air inside each room and add heat to it (in heating mode) or remove heat from it (in cooling mode). The heat is moved into or out of your home using refrigerant lines that run from the room units to an outdoor condensing unit.
One of the benefits of ductless mini-split systems is that the installation process is fairly simple. A small hole is drilled into the walls inside your home for the refrigerant and electrical lines that connect to the room's unit. After that, the unit is mounted on the wall.
Another benefit is zone control which allows homeowners to only heat or cool certain parts of their home. With a ductless mini-split system, you can turn off all of the other rooms' units and just heat or cool your own room. This often reduces the amount of energy that you use in your home.
If you are interested in learning more about ductless split system installation call Expert Air at 281-428-7344. We can help you determine if a ductless system is right for your home.