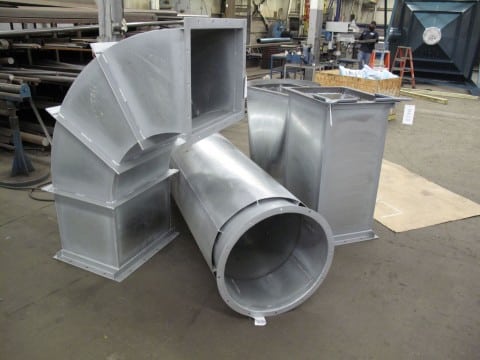 Ductwork is not visible but is highly significant when it comes to air distribution and utility costs. Whether buying a home, or finding its time for ductwork upgrades, take the time to learn why it matters, so you make the right investment. If you notice your energy costs keep rising, your indoor air quality continues to degrade, or you constantly have uneven temperatures in all the zones of your home, it may be time to replace your ductwork The Woodlands.
Contact the certified technicians at Expert Air today for a proper and reliable ductwork evaluation that will include a visual inspection, air flow measurements, and ductwork blower test.
When it comes to choosing the right type of duct work for you space, preferences, and budget, you do have choices. No matter your choice, evaluate the pros and cons of each type.
Flexible
Sheet Metal
Fiberglass Duct Board
Duct work is how the cooled air is carried from the air conditioning unit through your home. Ductwork also removes stale air and is a type of filtration system. Sheet Metal is the most commonly used type of air ductwork. Easy installation and comes in variety of shapes and sizes of thickness. Biggest pro is that sheet metal air ducts are the most durable type of duct construction and are the least likely to have mold growth.
A second option for ductwork material is Fiberglass Duct Board which is the lowest cost option for air duct systems to install. Well insulated but has the downfall of mold and mildew overgrowth and the design surface inadvertently impacts airflow and energy efficiency. Other benefits of this option as an unexpected perk is that it provides thermal and acoustical benefits.The material design serves as an air barrier, water vapor retardant, and it's sealed to prevent fiberglass fibers from entering the air stream.
The third and final ductwork option is Flexible Air Ducts which are also inexpensive, easy to install, and lightweight. The trick to this option of duct work The Woodlands is short lengths to minimalize bend. Easiest option for installation and second least expensive option for duct work material. Remember though, easy installation doesn't mean it is a wise do-it-yourself project. Air flow is vital for efficiency and it takes the right kind of training to ensure accuracy, especially for this type of duct work as they impede air flow the most of all the options, so you really must have a keen eye at the time of installation.
When you are ready to install your air conditioning system, contact Expert Air to find out which type of duct is best for your home or business. Duct work is not a one size fits all, so you need to trust your HVAC contractors at Expert Air.