Your HVAC service company should be thought of similarly to your auto mechanic. You need them for maintenance, repairs, and service, but not all of the time, but when the need arises, you know exactly who to call because your mechanic knows you, your vehicle and you have built a relationship of trust and rapport. That is the same way we want you to feel about choosing Expert Air as your preferred company for all of your home or business' HVAC needs.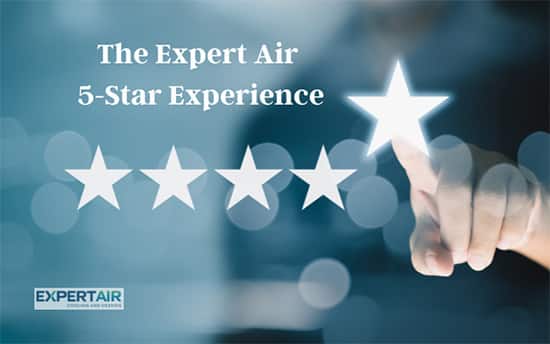 In The Beginning
Over 40 years ago Expert Air owner Kieth Cox started the company with nothing more than a truck, his expertise, and his tools in the Baytown, TX area. Since then, the company has grown by providing professional HVAC service, repair, and installation customers have come to expect.
When You Call
What can YOU expect when you call Expert Air? When you call our dispatch center you will be asked several questions such as the purpose of your call (service, repair, maintenance, replacement) details about the issue you are experiencing, and the age of your HVAC unit. The dispatcher will schedule you at a time that is convenient for your schedule. She will then recap the reason for your call, and will then go over what to expect when the Expert Air technician arrives at your location.
Get to Know Our Technicians
When the technician dispatches himself to your home or business, you will receive a text, email, or call to let you know he is en route along with a photo of the technician and a brief bio so you know who is coming to your door. The technician will arrive in an Expert Air branded vehicle, wearing an Expert Air shirt and hat. While our technicians wear booties to protect the inside of your home, if you would like him to wear a facemask during his visit, please mention this to the dispatcher when scheduling your appointment. Your safety is important to us! From there he will discuss the issue you are having and the steps he will need to take in order to assess the issue and will provide solutions.
No work will be done without your consent. When the tech provides an estimate for work, he will provide a detailed plan and cost for equipment and labor. If your HVAC system is under warranty he will check to see if any repairs or services fall under your warranty or your maintenance agreement if you are a member of the Be Cool Maintenance Plan.
Be Cool Maintenance Club
Don't miss out on a great opportunity to have peace of mind when it comes to your HVAC system. It's easy to forget about it when your home is comfortable, but if your AC stops running or your furnace isn't heating, you want someone to look at the issue quickly! Check out this quick video to find out about the benefits of being a Be Cool Club member!
Free Estimates & Financing
If your home is 10 years or older, there is a good chance you will need a new or replacement HVAC system in the near future. Our sales team will come to your location to provide a free estimate. We offer financing options with no cash down and APR as low as 6.99% for qualified customers. Both our sales team and office manager can answer any financing questions you may have. Give us a call at 281-428-7344.