Keeping your air conditioning unit running smoothly is essential, especially during the hot summer months. At Expert Air, we specialize in all aspects of air conditioning, including AC repair in The Woodlands, TX. Let us help you keep your A/C unit in top condition so that you and your family can stay cool and comfortable.
Still wondering whether A/C maintenance is a worthwhile investment for you? We understand that every dollar counts, and you want to spend wisely. Call us today, or keep reading to learn why choosing air conditioning maintenance with Expert Air might be one of the best decisions you make today.
Call (281) 428-7344
Save Energy through Proper AC Maintenance
One key aspect of our maintenance process is the thorough cleaning of dust and debris from your air conditioner and the entire air conditioning system. By removing these obstructions:
Your unit doesn't have to work as hard to draw in the necessary air.
It uses less energy since it's not straining to perform its function.
Although it might seem minor, many of our customers notice a significant decrease in energy usage.
When it comes to AC repair in The Woodlands, TX, maintenance like this is crucial in ensuring that your system runs efficiently.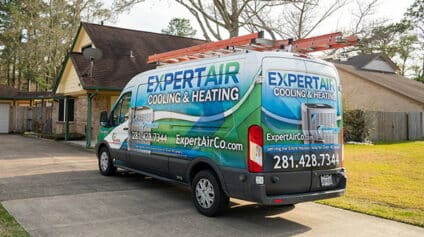 Save Money with Expert Air
Spending less energy to keep your A/C running translates directly into savings on energy costs:
While we can't pinpoint exactly how much AC maintenance in The Woodlands TX will affect your energy usage without inspecting your unit, we can provide an estimate if we think you might save substantially.
By choosing The Woodlands AC repair and regular maintenance with Expert Air, you are investing in future savings.
Stay Cooler and Enjoy More Comfort
Investing in The Woodlands AC repair and maintenance means more than just energy efficiency. A well-maintained air conditioner:
Keeps your house cooler, ensuring every room reaches the desired temperature.
Provides a more consistent and comfortable living environment.
Allows you to enjoy your home more, especially during the sweltering summer months.
Trust Expert Air with Your The Woodlands Air Conditioner Needs
Whether you need regular maintenance or AC repair in The Woodlands, TX, Expert Air is here to assist you. Our commitment to excellence ensures that your air conditioning maintenance is completed promptly and professionally.
From inspections to comprehensive The Woodlands AC repair, our services are designed to keep your system functioning at its best.
With Expert Air, you're not only investing in your comfort but also in a more energy-efficient home that can save you money in the long run.
Don't hesitate to contact us at Expert Air, and we'll get your air conditioning maintenance or The Woodlands AC repair completed as soon as possible. Let us help you stay cool and save money at the same time. We're more than just a service provider; we're your partner in ensuring a comfortable and energy-efficient home. Call us today!
Call (281) 428-7344