We've been posting, blogging, and writing pretty frequently about the importance of getting your HVAC system checked either as part of a seasonal tune-up or as a member of our Be Cool Maintenance Club. Now that the weather has changed to the cooler temps of fall (at least in the morning and evenings), you may be thinking about switching that switch on your thermostat from "Cool" to "Heat". Before you do that, it is equally important to know that the heating component of your HVAC system is in good working order, and is prepared not only for those cool fall nights but also in case we have another freeze like we endured last winter!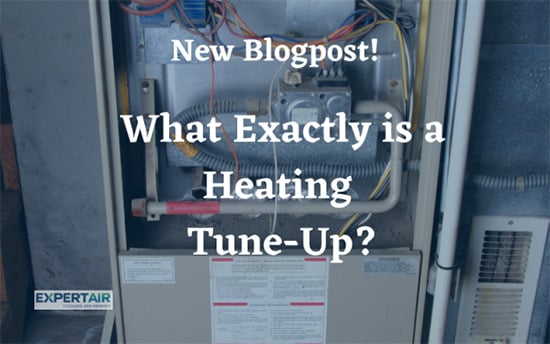 At Expert Air, we install, repair, and service a wide variety of heating components that are a part of your HVAC system. a heating tune-up provides peace of mind, and can even result in cost savings because your system is working efficiently. So what does a heating tune-up include? Glad you asked.
Maintenance Steps
First, we start the unit up to check essential operating efficiencies and comfort conditions.
Next, our technician will inspect the flue and diverter. This ensures safe operation, and the flue pipe is inspected for corrosion or leaks which can be dangerous.
The pilot assembly is cleaned and adjusted, the thermocouple is checked, and the burners are cleaned and adjusted. These preventative actions save money by increasing efficiency and can provide safety and can prevent costly service calls.
Here are other items that are covered during an Expert Air Heating Tune-Up.
Set gas manifold pressure
Set burner air adjustment
Check gas valve operation
Test for gas leaks
Check thermostat
Check heat anticipator
Check thermostat contacts
Check safety devices
Check fan control
Check limit control
Inspect heat exchanger for leaks
Inspect combustion changer
Check blower wheel
Check blower motor and lube
Check for belt tension and align
Check and secure all panels
Check air filter
Check furnace wiring
Check noise and vibration levels
Check for combustible materials around the furnace
Check for combustion air
Check temperature difference of supply and return air temperatures.
Make final operations test
Advise improvements if needed
We know it's an extensive list, but having these items checked before you use your furnace regularly is important to make sure your system is operating correctly, and efficiently. Not to mention, if we have another freeze that is even close to the one we had in February of 2021, you will want to make sure your HVAC system is in its best working order it can be!
You may be thinking that you could easily do these heating-tune-up steps on your own. However, our technicians are trained to spot issues during these checks to assess if they are in need of immediate repair.
While you can schedule a Heating Tune-Up on its own for a special price of $69, you can also have two annual maintenance checks (Spring/Summer and Fall/Winter) as a member of our Be Cool Maintenance Club which is $169 annually. Additional units are $149 per year. You also receive additional benefits such as priority scheduling 24-hour emergency service and discounts on maintenance, service, and accessories.
Give Expert Air a call today at 281-428-7344 to join the Be Cool Club or to schedule your heating tune-up.